Happy Summer, Everyone! I cannot BEEEEE-LEEEEEVE how quickly this summer is flying by! Waaahhh!!!
Our last day of school was a memorable one this year…not ONLY because we had snow, but the city had SO.MUCH.SNOW that they actually CANCELED SCHOOL. If you don't believe me, ask me how many tears were shed that Tuesday morning.
Last Day Snow Day. Sniff, sniff.
Thankfully, each of the kids' wonderful teachers did a "make-up" day. They were absolutely not required to do so, but this just shows how much they care about their students. It was wonderful for them to be able to give their teachers a hug and do some celebrating with their peers.
Well, this is a story for another blog post, but we decided to set some of our turtles free because we had to bury some of the others (again, ask me about the tears shed)…Apparently Elliott was wearing this EXACT outfit on that day (down to the unmentionables), and that was the outfit he insisted on wearing the last day of school. He chooses to wear his overalls almost every day (one of the many things that melts my heart about him) but I can't believe he remembered the shirt and, ahem, every other part of his outfit, from that day.
Elliott had a fantastic year in second grade. He has such a great group of friends and his teacher was excellent. They always started out their day with prayer and rumor has it that every single day he prayed for our turtles. We are so proud of his leadership and excellence once again this year.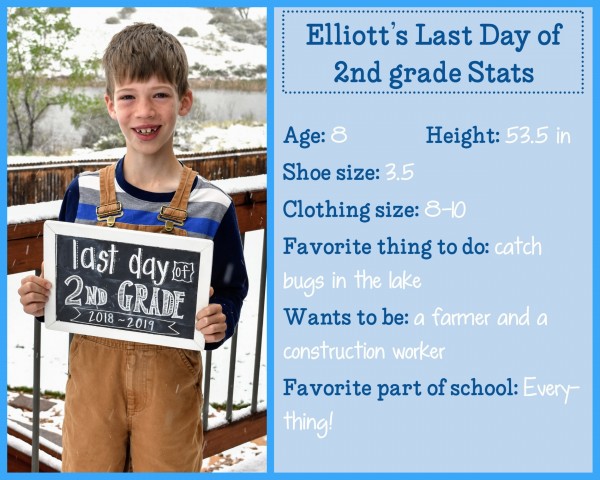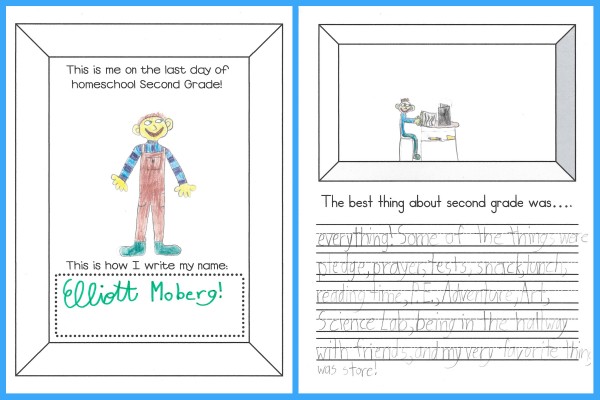 I think this is the first time that policeman and fireman didn't make it into his career goals. I was surprised to hear him say, "Farmer and construction worker," but he would be excellent in both those fields. Good thing he already has the uniform ;). And seriously, could his self-portrait BE any cuter???? *swoon*
Our church does a little end-of-the-year homeschool celebration. Some moms create certificates for each of their children and all of them honor their kids by taking a few minutes and talking about academic and spiritual strengths. I loved that idea!! Honoring my kids in front of others is a big deal to me and I was really excited about this opportunity. So I created certificates for them and then (long story short) we ended up not being able to make it to the celebration. So we did our own family celebration at home. It was really sweet to see their faces as I honored them. Elliott couldn't hold back the ear-to-ear grin that completely took over his face. And when we were through, Selah immediately left the room and made certificates of her own for everyone in the family.
As I reminisced about the year, the aspect of Elliott's character that stuck out so strongly to me was how excellent of a friend he is. He has had many friends choose him, and I can see it is because he is a little boy seeking to serve God with his whole heart. His care and tenderness for others makes him a true leader and an incredible friend.
And now onto our girl. This girl. My goodness. What a treasure. She flew through kindergarten and I'm pretty sure she thinks she's ready for high school. Slow down, baby girl…slooooowwww down….! We are really proud of her servant leadership in her classroom this year.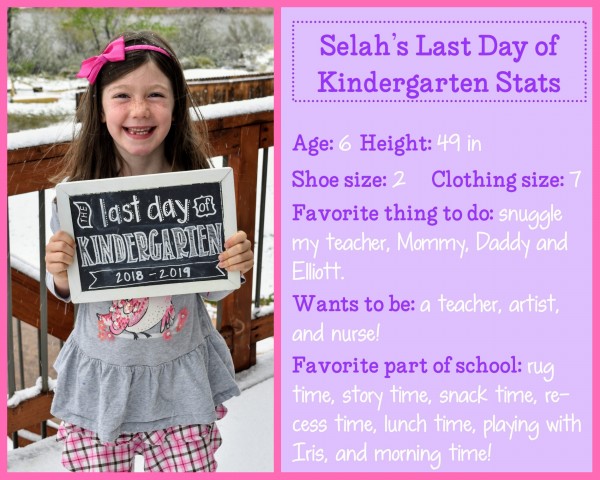 This was also the first time I've heard her mention that she wants to be a teacher (and an artist, for that matter)! She talked frequently about leading small groups during her school days…reading her peers books and coming up with craft activities to go along with them. So I must say, I wouldn't be surprised if she followed in her mama's footsteps…
Elliott had the same kindergarten teacher and at the end of the year she gives each student a meaningful award. They are so thoughtful and true for each student–it is a really special time. Here's a video of Selah's award.
For Selah, as I thought back over the year, the aspect of her character that truly stood out to me was her servant leadership. She would come home and recount stories of ways she had served her peers in the classroom, and I don't think she had any idea that she was actually serving. Serving is like breathing to her. Of course, I couldn't not acknowledge her Rubik's Cube feat and I had to throw in her creative reading positions. I can't tell you how many times I've found her reading books in trees, or other very interesting places. But again, that's another story for another post!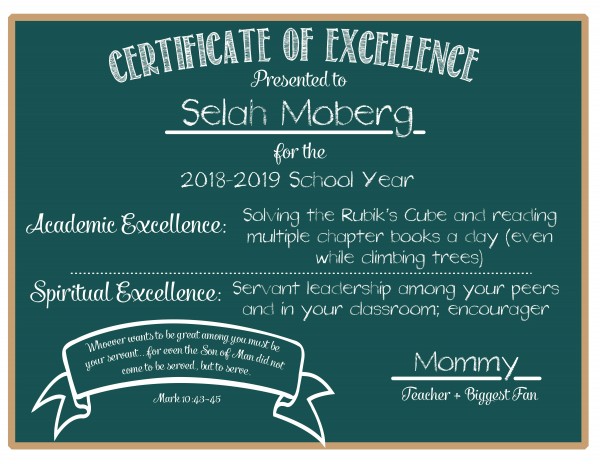 Here are the kids with their teachers on the make-up last day. (And in case you're detail-oriented and wondering, yes…the kids chose to wear the EXACT same outfits that they had picked out for the last day.)
And now, for the part that always makes me cry…a little compare and contrast from the first day!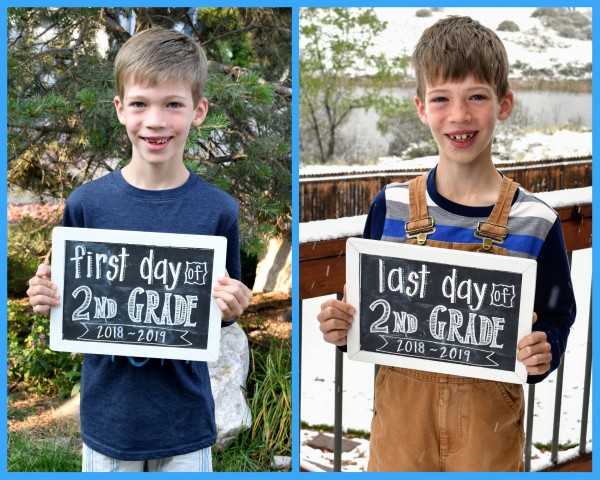 Okay but seriously, he grew up SOOOO MUCH this year!!!!!!! How is that much growing up even possible????!!!!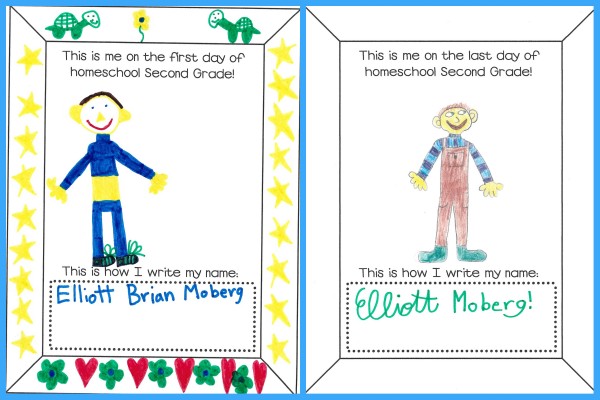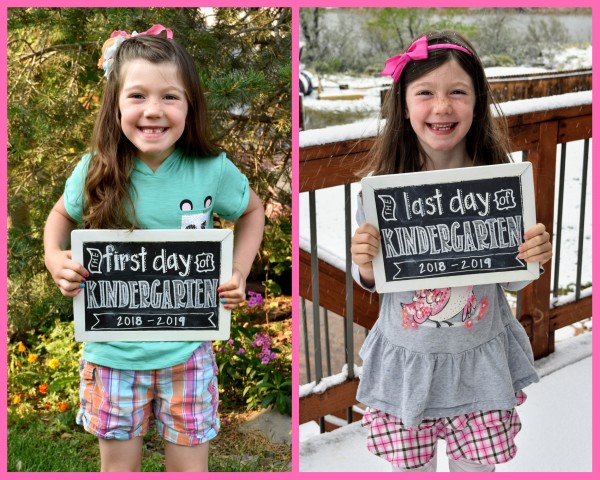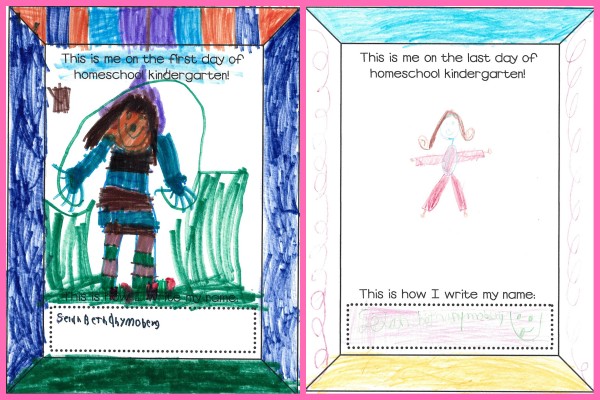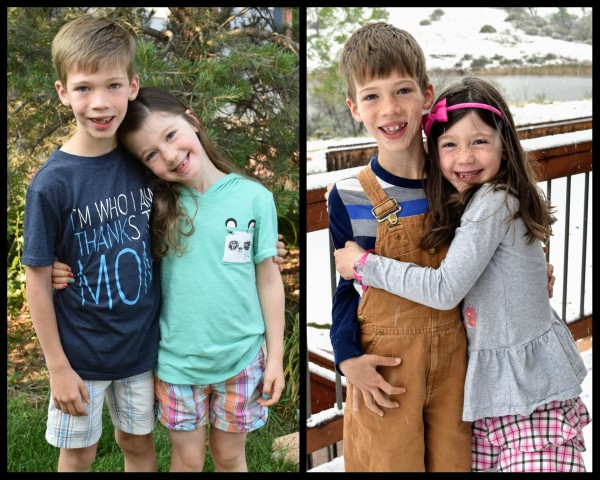 Oh, how I love these two!! They are growing up so quickly before our eyes…