Y'all. Brian and I have officially been married a decade!! Fireworks, please!!!!
We celebrated the big 10 on August 8. Wow. As some of you know, it was my dream to have a 10 year anniversary celebration party and invite all of you but, alas, my plans are often not the Lord's! Besides the fact that you know I love throwing a fun party, I really wanted to take the time to CELEBRATE what THE LORD has done in us and through us in these 10 years. It is worth taking time to celebrate!! So instead of throwing a party, we got a few days away together (in Washington, nonetheless!) to reminisce, to ponder, and to look forward. And, I wrote Brian a poem. Because you all know writing is how I process everything. He called it the "Iliad and the Odyssey all rolled into one" so apparently I'm still long-winded. But, come on! It's been 10 years!! A lot has happened!!!
If you are reading this you are most likely one of our dearly beloved friends or family members. YOU have been a big part of how the Lord has sustained us and grown us these last 10 years. THANK YOU for standing with us throughout our marriage and loving us!
As I pondered the last decade, I couldn't help but think about how we met each other at sea level, and here, 10 years later, the Lord has brought us to the mountains…with SO.MANY valleys, twists, and turns in between. We could have never, ever made it this far without the Lord's new mercies to us EVERY.SINGLE.DAY. Thank you, Lord, for your faithfulness and goodness to hold our marriage together.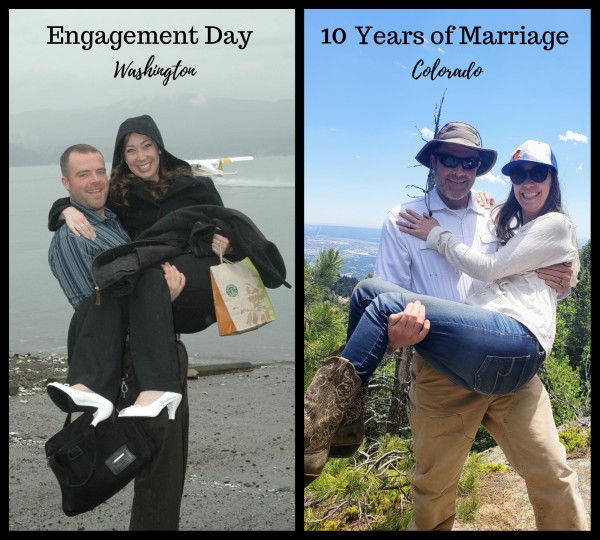 10 Years of Marriage
"I do," I did and what I didn't know
Our journey began at the ocean
Promising to love with heart, soul and mind
Now ten years later He's brought us to a mountain
After many valleys and hills, hand-in-hand we have climbed
I didn't actually know what that "I do" promise entailed
Though I meant it with all of my heart
I committed to you in the fear of the Lord
And was more than ready to fulfill my part
But I didn't know how much I would fail
At this God-given task I had waited years for
I didn't know how much dying it would entail
And how it would draw me to Him more and more
I didn't know when we said, "for better,"
All the gifts God had in mind on us to bestow
Our first-born son Elliott and precious Selah as our daughter
Have been the best "betters" of our lives beyond what we could have known
I didn't know when we said, "for worse,"
What pain that word would really encompass
Cradling our breathless babies was a path we had to traverse
And now we await the reunion in Heaven with our two littlest
I didn't know when we said, "for richer,"
That money would not be the primary meaning
Rather the body of Christ has made our hearts fuller
All our friends and family who, with love, are surrounding
I didn't know when we said, "for poorer,"
That our lack and our need would come in so many forms
So at the beginning of each day we go to Him in prayer
And ensure seeking His kingdom first is the daily norm
I didn't know when we said, "in sickness,"
The overwhelming way it would impact our days
And I didn't know how profoundly we'd see His goodness
And how we'd learn how much higher, indeed, are His ways
I didn't know when we said, "in health,"
How much we would thank Him for each God-given day
Every breath, every step is our treasured wealth
Every victory, together, is gratitude on display
I didn't know how much we would disagree
On sometimes what's seemed like everything
I didn't know when something appeared so clear to me
That you could have a completely different hankering
I didn't know how different we could possibly be
Male and female He definitely created us
But it's because of these differences that you so perfectly complete me
And the grand design of God I'm learning to trust
Yet I didn't know how much we would agree
Some subjects have been natural and easy
But others have been won with hard-fought victory
Thanks be to God, He has given us true unity
I didn't know when we decided to marry
The vast number of decisions and choices there would actually be
But I married a man whose convictions would strengthen daily
To pursue holiness, to value life, to love—forever—only me
I didn't know we would call 8 places "home"
Spanning 3 different countries and 6 unique cities
In total, 25 cars and trucks, 3 houses would we own
And now a kitchen sink facing water on our 40 acres
I didn't know what an incredible father you would be
And how much joy you would find in instructing in righteousness
That teaching our kids the Word would be such a high priority
And in word and in deed, loving them with such boldness
I didn't know the various things you would help me learn to appreciate
Faithful flossing and the thrill of four-wheeling are two
My preferences now are SUV's, trucks and the house cooled to 68
But above all, most importantly, finding a ridiculously good value
I didn't know what a massive undertaking it would be to be my husband
If I'd known how much I was going to cost, I'd have said, "It couldn't be true,"
Yet when through tears I share with you (and your gray hair) this sentiment
You smile kindly and hold me tightly and say, "But I have you."
I didn't know how very much I would need you
I didn't know you would—literally—catch me when I fall
Your vision, strength and sacrifice in all that you do
Your godly perspective and wholehearted love that embodies it all
You see, I didn't know when I said, "I do"
How much choosing I would do every single day
Yet still, with overwhelming joy, I do choose you—to love only you
Still I do choose to live with you in an understanding way
I didn't know our love could withstand the fires and come out so very strong
We know it never could have, save the love of Christ we've been given
Some One wise once said that two are better than one
Yes, but a cord of three strands is not easily broken.
We couldn't have known who we would need
The perfect mate to help us follow God, remain true
We couldn't have known, but, in faith, we followed His lead
And God, oh yes…God…He certainly knew.
To Him be the glory for these 10 years! Amen.