Oh, happy summer!!!
There is such a great feeling that comes from working really, really hard and then taking a BREAK! We all worked really hard this past year and it has been such a delight to RELAX the past couple of weeks. I love our summer-time learning…very different than during the school year. So far Elliott is learning how to break down and rebuild a cement wall on our property with Brian and Selah is taking cooking lessons from yours truly. I love these days of less structure and less pressure.
But we had a fantastic school year once again. Although there was LOTS of hard work, we did have a lot of fun as well. We continue to be so grateful for our little classical Christian community and I LOVED having the kids home 4 days instead of 3. We refined a lot of the structure of our homeschool days and I think we're finally finding our groove.
This year we studied the founding of America; astronomy, geology and meteorology; ocean animals, mammals and insects; Michelangelo, Da Vinci and Van Eyck; and Christina Rosetti, Emily Dickenson and Robert Frost. They read well over 400 books relating to learn about all of those subjects! WOW!! Like last year, we didn't even count the books they read "for fun," only the ones school-related. In a nut shell: the kids memorized three different chapters of Psalms, tons of scripture besides that, 9 different poems, all the states and capitals, 22 short songs that tell the story of early American history, many of the presidents, the preamble to the Constitution and lots of different catechisms.  They learned how to draw the entire United States and label each state with its abbreviation. They started learning Latin and have done a fantastic job of picking it up. They both crafted items to sell at our school's Winter Market. They learned lines for and performed in A Midsummer Night's Dream. They each did fun science projects and presented to their classes. Elliott did a presentation as Captain John Smith and Selah as Betsy Ross. They are making great progress with piano and choir. And this is all in addition to our Language Arts and math studies! They continue to excel in their narrations, copywork, and artwork. They are becoming truly amazing artists and becoming excellent with watercolors. We had the joy of having 3 friends join us for nature study each week, which added tons of fun to our learning. We also raised butterflies again! Whew! Can you see how hard we all worked and how much fun we had!?!? What a JOY it is to teach these kiddos of mine!! I already can't wait for September :).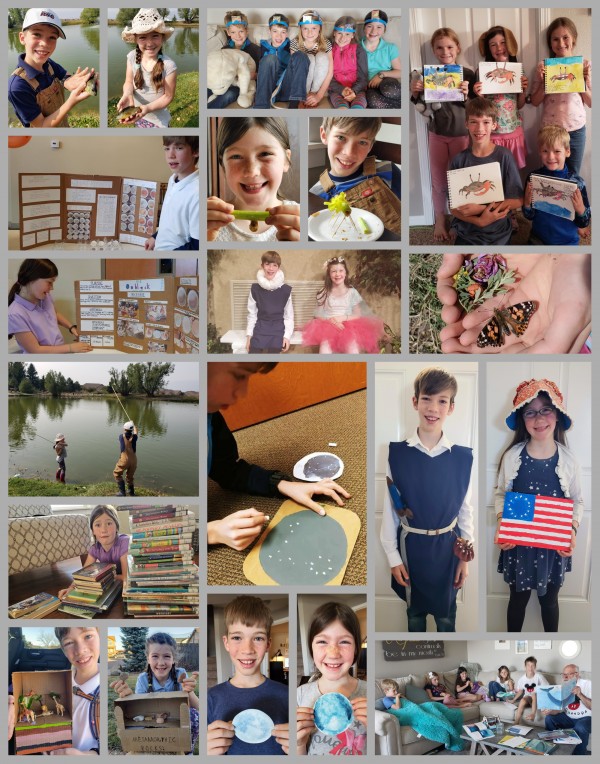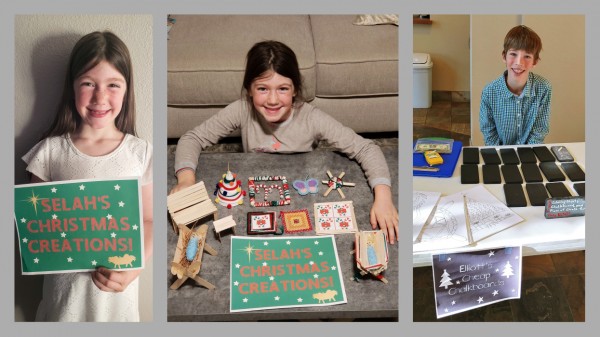 We read SO much fantastic literature, it's hard to select highlights, but some of our favorites were The Sign of the Beaver, Pilgrim's Progress, and Wind in the Willows.
Elliott grew a ton this year, and not just physically! He is growing in his faith and self-control and trust and obedience. His biggest struggle in school has always been his battle against perfectionism, and boy did he take some ground this year! I took some time to write out achievements for each kid, and here are Elliott's.
Spiritual: By God's grace, Elliott was eager to be baptized this year and we've seen a growth in his self-control and trust to obey us and the Lord.
Academic: Elliott didn't miss a SINGLE multiplication or division problem on his daily times tests all year! He made big strides to complete his work in a timely manner without being ruled by perfectionism.
Life Skills: He has been a huge help to his daddy working on various projects around the property–he is really growing into a strong, capable man!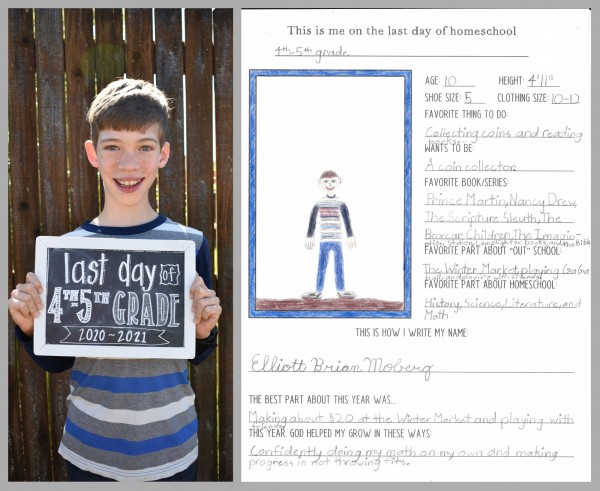 And Selah's achievements:
Spiritual: By God's grace, Selah chose to be baptized this year and we've seen growth in her heart to obey the Lord in all things and a quickness to repentance.
Academic: She mastered all of her multiplication and division facts this year, including double and triple digit multiplication and long division! She also made a lot of progress with her spelling.
Life Skills: She is a huge help to me around the kitchen and is really picking up her cooking skills. Also, she has completely mastered the art of doing EVERYTHING (and I'm not kidding when I say "everything") with only one hand, since there is ALWAYS a book in the other.
Both the kids are avid readers, but Selah has really taken it to an all-new level. I mean, in the past I've found her up in trees and riding a tricycle around the driveway while reading. But, no kidding the other day Elliott came in and said, "Mom, Selah is riding her bike while reading a book–in the road." So yeah, we still have some safety training to do. Granted, we live on a VERY quiet street with almost no traffic, but still. Once this year I caught her doing a math lesson with a book in her other hand. She unloads the dishwasher, walks around the house and outside, jumps on the trampoline, plays and, of course, eats all while reading. I can't tell you how many times a day I say, "PUT THE BOOK DOWN!!" I suppose it's not a bad problem to have…unless she's riding her bike in the road, of course. Sigh. Working on it.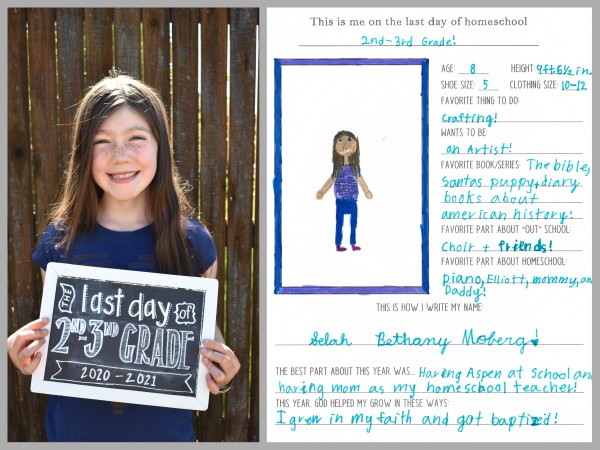 How she grew into a size 5 shoe this year, I'm still trying to figure out…my baby sure is growing up!!
And my favorite part…the compare and contrast: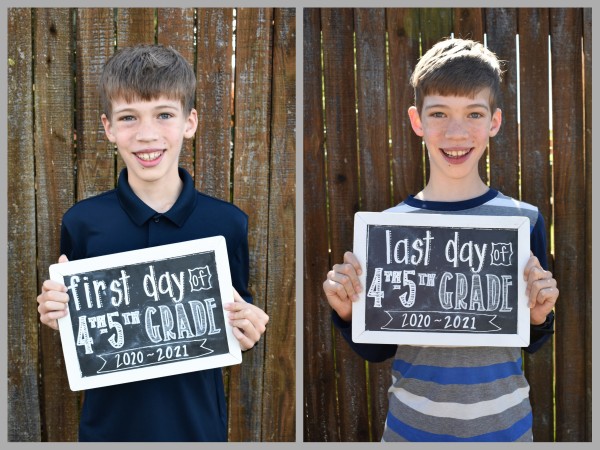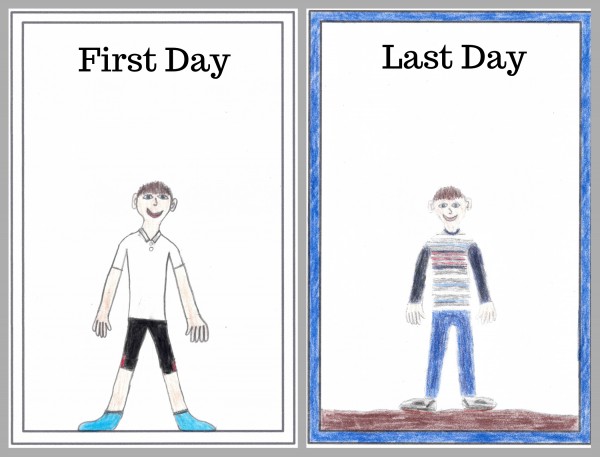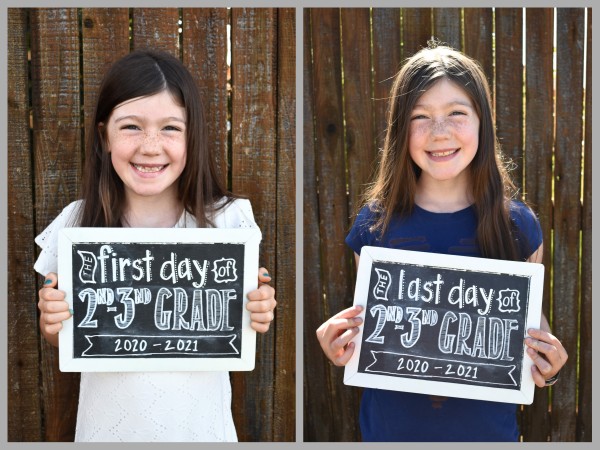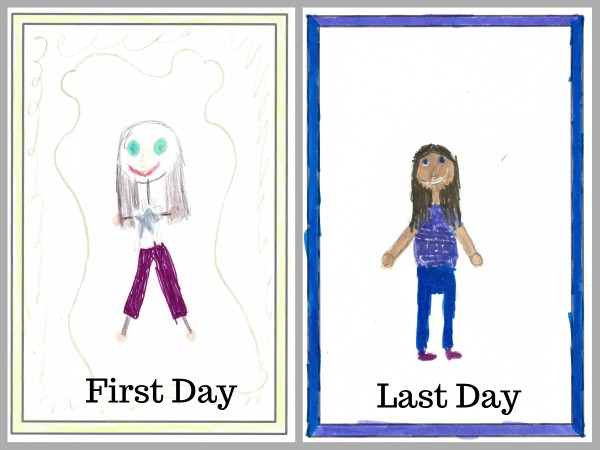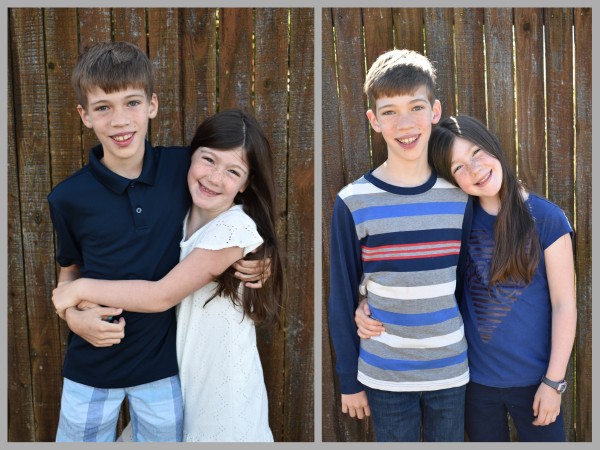 I am so incredibly blessed to be able to homeschool these two kiddos. Thank you, Lord, for another wonderful, rich year of growth in all of our lives!! May our learning always glorify You!!