Our mighty man turned TEN!
Wow, we have seen the fruit of the Lord working mightily in our son the past few months. What a joy it is to watch him GROW UP, not just as a boy filled with zeal and joy and wisdom and wonder, but as a disciple of Jesus Christ. We have seen a lot of maturity in him these past few months leading up to the big double digits!!
On his big day, he woke up to a blue balloon with the words, "Happy 10th Birthday, Elliott!" written on it. Inside was the following note:
Dear Elliott, Happy 10th birthday!! We love you because God made you and you're YOU. You will never earn more of our love by anything you do. We love you because you are YOU, period! But we wanted to share some of our favorite things about you and some of the many reasons we absolutely delight in you and are so thankful that God placed YOU in our family!! Love, Mommy, Daddy and Selah
We then instructed him that he must find 10 other balloons in the house. We had all written out some of the things we love about Elliott and each hidden balloon contained one of those things.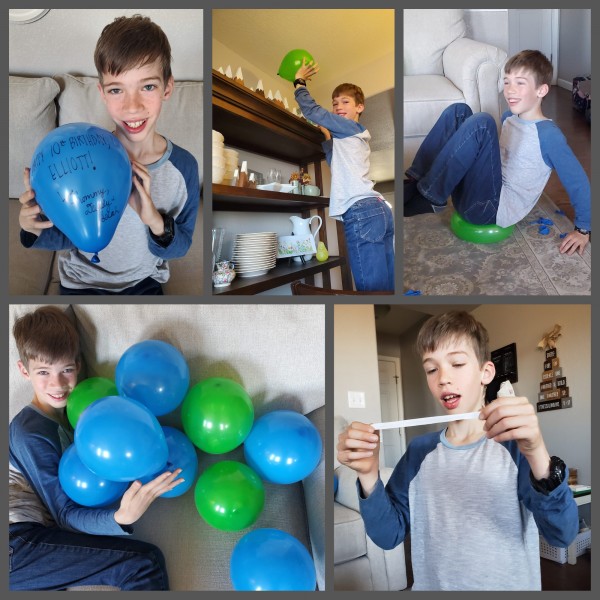 Elliott Brian Moberg, how do we love thee in all of thy joy, and wonder, and zeal for life?? Let us count the ways…
We had waffles, whipped cream and strawberries for breakfast, per Elliott's request! Good morning, birthday man!!
Grandma and Grandpa Moberg were here visiting and Grampa and Nonna Mauss came over for lunch. Hooray for grandparents! Elliott opened some presents and we feasted and enjoyed mud pie! I'm not sure either of our kids are capable of doing anything half-hearted. This series of pictures just cracks me up. I love Selah's expression in the second photo. Literally awe-struck at his gift! He had just opened a 2011 proof set of coins from his daddy and me. As the awe wears off and pure excitement builds in picture 3, he goes flying up and down, as you can see in picture 4. Picture 5 is Selah–in the air–because she literally cannot contain her excitement as Elliott opens the gift from her. Hmmm, I wonder which parent they got their expression from? 😉 I sure do love these two joy-filled kiddos!!
 Our kids are so blessed to have both sets of grandparents in their lives. I thank God often for that. I didn't grow up knowing my grandparents and it's hard to imagine Elliott and Selah not knowing each of our parents. So thankful for the blessing of their lives!
And, you guys. Look at these two. Are you kidding me? They are such a gift to us. Growing in their love for each other with each passing year.
Just like last year, Elliott pleaded with us to time our daily bible reading so that Brian would be reading to us at exactly 6:25 pm, since that is the moment he was born. (5:25 pm Pacific Time) Again, these pictures crack me up. They were taken at precisely 6:25. Brian just kept on reading, undeterred :). But no lack of enthusiasm on either of their parts!
Also, I wanted to mention that Selah, in true Selah fashion, decided to buy a balloon animals instruction guide and learn how to make balloon animals so she could give everyone party favors–2 days before his birthday! And learn, she did! She made Elliott a turtle! It was her very first balloon animal! And then a personalized balloon animal for each grandparent and Brian and me. Grandma got a pink bear, Grandpa a white bunny, Grampa an airplane and Nonna a flower! Brian and I got some very special creations, which we decided to call Cacti :).
We decided to take Elliott on a special 10th birthday trip. Brian took him skiing and they had a wonderful couple of days away together. He hadn't been skiing since last year but he picked it up quite quickly again! The trip was wonderful, other than a horrible, no good, very bad sunburn. (Grrrr….)
Now, as for celebrating with friends… Last year, all Elliott wanted to do was have friends over to play ultimate tag on our property. The Lord had different plans, but this year his dream came true. In fact, I suggested making the focus an epic game of Capture the Flag and that is what we did. Elliott really, really wanted to have his cousin Micah there for his party so we held off about a month until Micah and his family were in town visiting. We started out with Ultimate Tag in the back yard as families and kids trickled in, and then Brian led the kids out to the property to commence Capture the Flag. Can you see them out on our property in the bottom two pictures? Huddled up on the left and spread out all over on the right?
And not only did he get Micah there, but ALL of his Moberg cousins!
Far be it from me to not pull together a few other wonderful baby pictures from 10 years ago…
Really though, have you ever met a child more captivating with his joy? How is it possible that his joy has grown in the last 10 years when we started with such a high bar?!!!!
Now, come on…their heads are LITERALLY tilted at the EXACT same angle, TEN YEARS LATER. Who does that? How did he know??
Elliott Brian, what JOY to watch you GROW UP these past 10 years! A decade!!! We are SO GRATEFUL to be your parents!! We thank God that he chose YOU to be our son. May the Lord continue to grow you into a man of honor, valor, strength and wisdom, who loves the Lord with all of his heart, mind, soul and strength. Happy birthday, mighty man!!