As you know, this little monkey has been thriving with gymnastics for years.
Well, we knew as the 2018-2019 school year approached, Selah needed to make a decision. Her gymnastics classes were the same two days as school. We gave her the option of staying in gymnastics and continuing to be fully homeschooled, or going to what she called "out school" (rather than just homeschool, lol). She thought about it for a while, but decided very definitively that she wanted to be done with gymnastics for now and go to school. There are definitely still possibilities of putting her in a similar evening class, but for now we are taking a deep breath and taking a break from gymnastics. This girl wants to do EVERYTHING–she would play every sport possible if she could…so we're letting the dust settle for now and we'll see what she picks up next.
Here she is on her very first day of gymnastics, and her last (for now)…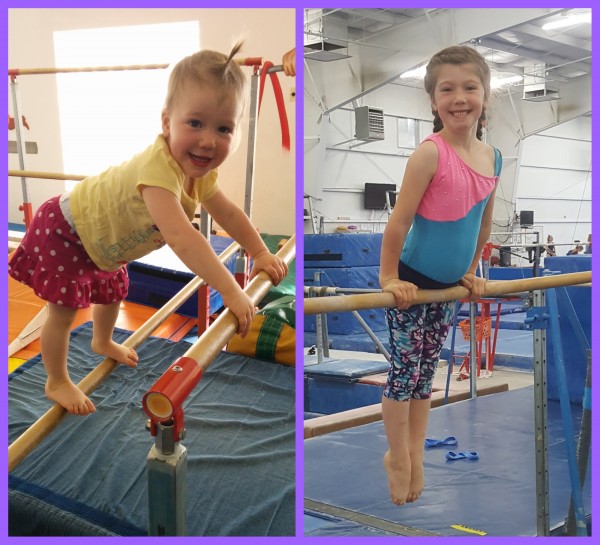 She was not quite 2 years old when she started, and a couple months shy of 6 years old when she ended. My word. Look at that girl. She lives for those bars!!! And I'm glad she finally grew some hair!!!
One of her little friends, Samantha, was in that very first "Mommy and Me" class with her, and they progressed through the preschool class together and then the pre-team class. They've been gymnastics buddies all these years!! This is them on Selah's first day, getting stamps…and here they are on the last day sitting next to each other for stamp time.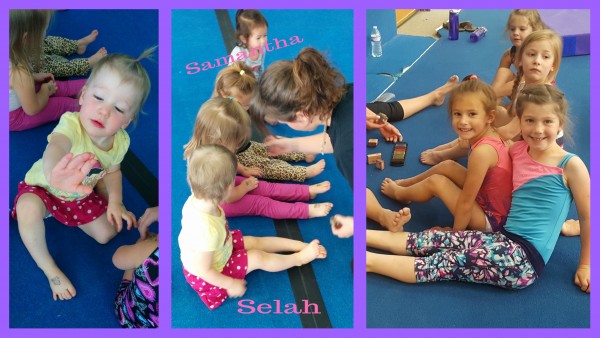 And have no fear–Selah still thinks best while standing on her head and doing cartwheels, so there is no shortage of gymnastics in our home. It'll be fun to see where her passions fall as the years go on…