I couldn't let 2013 slip away silently, without writing a little something to REMEMBER who we are as we finish out this past year and begin a new one. If I had written a Christmas letter, this is what it would have said. 🙂
There's not a day that goes by that Brian and I don't turn to each other and say, in some fashion, "We are so, so, so blessed…" Now don't get me wrong…we have had QUITE the year in some aspects, and someone looking at all of our various challenging circumstances might call us anything but "blessed" this past year. But "blessed" is all we can see when we look at what matters eternally. We are so grateful for the goodness of the Lord and how He's carried us through every trial and lavished us with AMAZING children, faithful parents, loving relatives, and deep, life-changing friendships. How could we possibly be more blessed, even when our circumstances are trying?
SELAH, 15 1/2 months
Our sweet and spunky thrill baby who is extremely passionate about her favorite things. She has a special love for hats, coats, and shoes still, often trying to put a second pair of shoes over the ones she currently has on.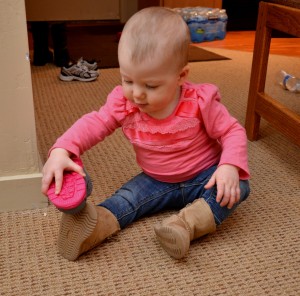 She loves picking up various articles of clothing laying around the house and putting them on her head or around her shoulders like a scarf.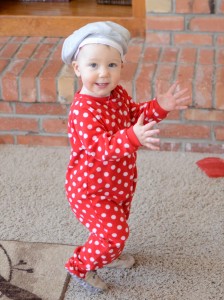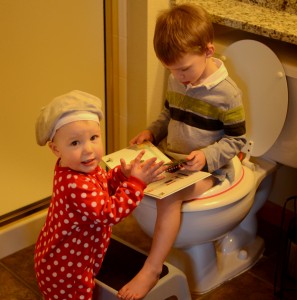 She loves to dance, especially during worship, which means she is a perfect pair for her big brother who has recently started singing ALL the time. He often breaks out in spontaneous song, and she breaks out in spontaneous dance! (Watch this cute video, and ignore the fact that I don't really know the tune or the words…)
She, like her big brother, is very particular about the way things should be (where on earth do they get that trait from??) and tells me how various parts of our routine should go. After getting her pajamas on for bedtime, she very passionately insists that she wants to read a book and she gets very, very upset when we don't have time to read one. When I get her up in the morning she points to the chair where I nurse her and asks for milk, then she points to the boppy and says ,"Boop!" Then she points to her blanket which she likes over her during that morning nursing time. She finds every tiny piece of trash and food on the floor and brings it to me. She also LOVES to throw things away, and I think I've finally trained her to only throw away diapers and trash, not toys. 🙂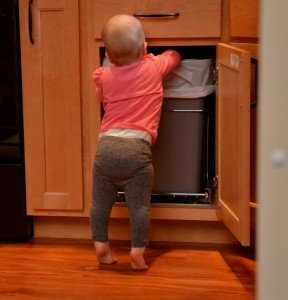 She still climbs ON and IN EVERYTHING including our HIGH kitchen table chairs which has caused many near-heart attacks for this Mama :/.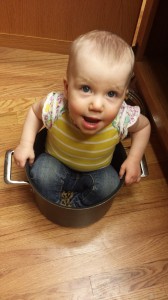 She loves to take a "bipe!" of anything that we are eating, and besides yelling out, "bipe!" she opens her mouth INCREDIBLY wide to show us that she means business. If you ask her for a kiss, this is also the same face she makes…so you never know what you're going to get :).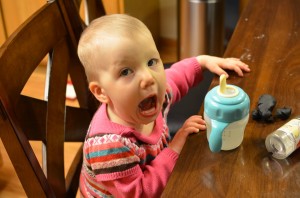 She is so, so playful. I love seeing how her spunky little mind works. She has several little "games" she plays with me…one is that as soon as I go to get her in the morning, she won't let me pick her up until I've played peek-a-boo through the crib slats at least once with her. She also has this funny little game where she breathes out through her nose several times, waits for me to mimick her, and then she growls. I think it is SO FUNNY.
Sometimes, if I'm in the kitchen and she's playing in the living room, she'll call out to me and then do the breathe out/growl thing. As soon as I do it back to her, she'll go right back to playing :). How awesome is she?? She fills my heart with utmost gratitude, joy, and constant laughter and awe.
 ELLIOTT, 2 3/4 years old
I've said it before…but this child just brims my soul with delight. He LOVES friends, his sister, the bible, "building a big house" with duplos, wearing his jammies, singing songs, tiny things (ANYTHING that's "tiny," he LOVES), his daddy's old playmobile set, puzzles, being a "working guy," and animals. He still has a love-hate relationship with animals: he only ever wants to eat off the two plates that we have with animals on it and loves playing with his animal figurines, but refuses to go near an animal that's alive and breathing. Recently, he's developed a huge passion for stickers; he will go through an entire book of stickers and stick them in one pile onto another piece of paper.
His super power, besides having a phenomenal memory, is noticing incredibly subtle nuances or when anything is new or different. As we moved into the winter season and I began wearing more sweaters and warm things, he noticed every time I put on something he didn't recognize. "This is new?" Recently he has discovered the word, "Why?" which has certainly given me a run for my money as a mom :). We did have some breakthrough recently…usually every day as Brian leaves for work, Elliott asks which car he's going to take. When Brian answers, "the truck," Elliott asks, "Why?" and Brian explains that he wants to leave the Suburban here in case we need to go somewhere. Well, the other day he said as Brian was leaving for work, "You take the truck? You take the truck so we have the 'burban in case we need to go somewhere?" Elliott memorized his very first bible verse at the beginning of December, and loves talking about bible stories. A few weeks ago, he put a laundry detergent clear plastic cup on his chin like a beard and said, "I am Noah!" We then built our own ark out of duplos and filled it with animals!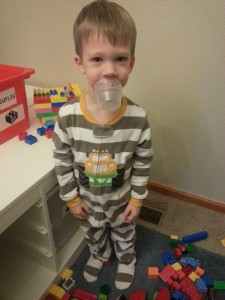 He LOVES, and I mean L-O-V-E-S, applesauce. He eats an unbelievable amount of applesauce in a day and we definitely have to cut him off after a while. One morning while I was putting Selah down for a nap, I could hear Elliott opening and closing things in the kitchen and obviously working on something, I came downstairs to THIS face…INCREDIBLY pleased and delighted himself: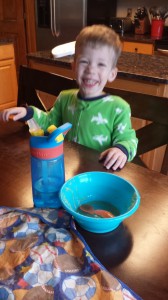 Turns out he had gotten a bowl and spoon out for himself, opened the fridge, took out the applesauce, poured it into his own bowl, put the applesauce back in the fridge, and enjoyed his special treat that he prepared himself. As you can see, he was SO PLEASED with himself. So then I opened the fridge to look at the brand new applesauce jar that I had JUST opened, and this is how much applesauce was left :).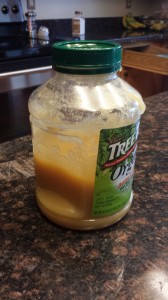 Elliott has such a tender heart towards the Lord and LOVES to read the bible. He makes sure that we read it every day in this household…talk about accountability!! 🙂 One night a couple months ago, after requesting several stories that didn't happen to be in the children's bible we were reading, he finally said, "Read about Jesus, God, take mine sins away….Jesus DIED!" I'm in awe of his faith already at the age of 2…a toddler who does not want band-aids or other soothing methods when he gets an "owie," but who cries out for Jesus to heal him instead. Pure delight to my soul.
THESE TWO….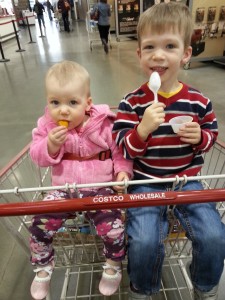 Having two siblings who love each other (most of the time, haha!) is simply extraordinary. I think to myself multiple times a day, "What a GIFT to have two children who LOVE, and who are LEARNING to LOVE, each other…" The majority of the time, they play incredibly well together. Elliott is such a phenomenal big brother most all day long, and looks for ways to bless, serve, and help his little sister. When she's crying in the car (which is most of the time, haha!), he sings, "LA, LA, LA, LA, LA!!!" at the top of his lungs until she starts to sing along, too, and forgets why she was crying. When we pull into our cul-de-sac he says, "Look, Selah! See? See??? We're almost HOME!!!" When I get Selah in the mornings, as soon as I'm done nursing and changing her she asks for "Dada" and "Elliott!!" She will ask for him until he finally wakes up and then she RUNS into his room screaming because she can't wait to see him. As soon as I get Elliott up, one of the first things he always asks is, "Was Selah asking for me?" They are truly BFFs. Lately they have been holding hands a lot, and it is the most precious thing ever.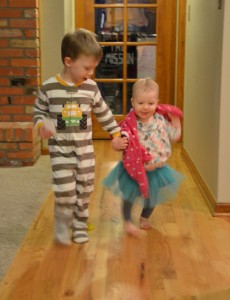 He makes her laugh. I love how much laughter is in our home each day!! (You probably don't have to watch the ENTIRE video to get the point…) 🙂
They have some sort of sleeping unity that I think is CRAZY. We have video monitors in their rooms, and I'm telling you—SO MANY TIMES they end up sleeping in the exact same position at the exact same time. I've probably taken a picture of it a dozen times, but it happens SO OFTEN! Isn't that crazy?! Has anyone else experienced this??? I took these pictures seconds apart…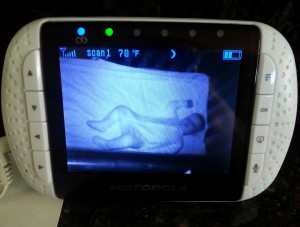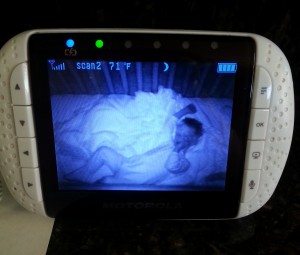 He is also super helpful with her…feeding her when I am getting dinner ready and constantly telling me what she needs.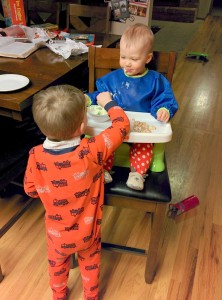 When Elliott needs to go sit in a time out, she automatically goes and joins him. Kind of defeats the purpose of him being a little bit isolated so he can gather back up his self control, but it's just so dang cute that I have a REALLY hard time telling her to move…I just love her love and admiration for him so much!
She would be content snuggling and hugging him all day long…unfortunately he doesn't ALWAYS have the patience for that :).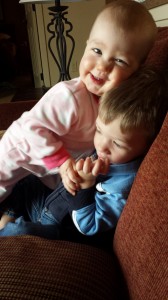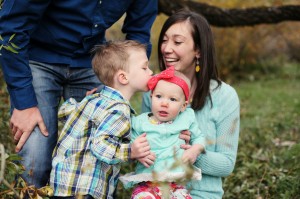 US TWO.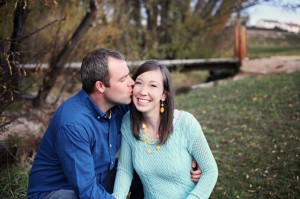 I continue to be the most blessed Mama on the planet, constantly in awe of the privilege it is to raise these children and spend every single day with them. I got to help teach a parenting class during the Fall, and it stirred up my faith even more for being a mom! Of course it can be challenging to train up these little ones, but the joy just so far exceeds the challenges. I LOVE my job!!!
Brian just finished one business adventure, and is on to the next. So although we are very much looking forward to ending our year-long transition  streak, we are also super excited and expectant for what's ahead. We are realizing that our entire marriage has been one big transition after another, yet it's incredible to see how transition has made our marriage that much more stable. Brian and I so often say to each other, "I'm so glad it's YOU." We have had our fair share of trials and challenges this past year, but each time we have come out with a much deeper faith, much deeper confidence in the goodness of our God, and much greater love for one another. There are SO many questions we have pressed into in the last year, regarding life and godliness, and each time we examine the Word and come out in agreement over what it says, we praise God for the rare gift of unity that He's poured out on us. THIS Scripture has been life:
 "So be truly glad. There is wonderful joy ahead, even though you have to endure many trials for a little while. These trials will show that your faith is genuine. It is being tested as fire tests and purifies gold—though your faith is far more precious than mere gold. So when your faith remains strong through many trials, it will bring you much praise and glory and honor on the day when Jesus Christ is revealed to the whole world."
1 Peter 1:6-7
I think I can honestly say that I do not take a single blessing in my life for granted. Each day is a gift. My time with Elliott and Selah is so precious…I will never get these little years back, and although some days seem very LONG, I just don't want to waste a single minute of each one. Each day with my husband is a gift. I married a man who works incredibly hard at every task that is set in his hands, who serves without question or expectation of reward, who guards his tongue, who selflessly takes care of those around him, who lives with integrity of character despite being misunderstood and mistreated, who holds a high standard of godliness in our home, who cherishes me and lavishes me with praise daily, and presses me to not settle short for less than the fullness of Christ. Never in a billion years could I possibly choose another. When I said on my wedding day, "The Lord has seen to every detail of what I need" I had no way of knowing how deep and profound I would come to understand that statement four and a half years later.
Transition and loss, new days and gain.
Adios to Mexico, Hello, Rocky Mountain plain.
Trials and joys, sickness and health
And a faith that is stronger than the greatest wealth
We thank you for your lessons but bid you farewell, 2013…
This entire year you showed us that we are so very blessed indeed.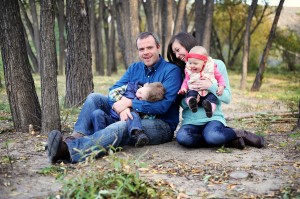 With great love, 
The Mobergs
**Thank you, Kristi Anne Photography for our awesome family photos! Visit our Gallery to see all of them!