CHRISTMAS EVE
I had big plans of baking a birthday cake for Jesus with Elliott on Christmas Eve, so we could throw a good ol' fashioned birthday party on Christmas Day. And…it for sure didn't happen this year :). Add it to the list of things to look forward to for next year!!
We made a big family breakfast and decided to let the kids open their first gift since we knew we would get home close to bedtime. We got Elliott Mr. Potato Head and Selah got the Mrs.! I THINK he's only seen one of these once, but he recognized it RIGHT away and exclaimed, "I GOT A SWEET POTATO!!!"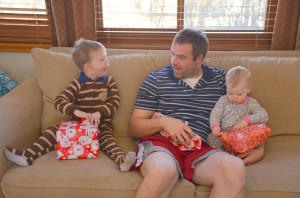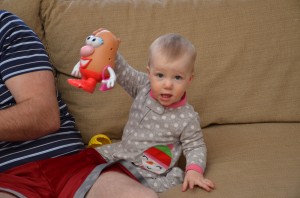 Our church didn't do a Christmas Eve service so we searched around for a service to bring the kids to so we could sing some carols. We got a little bit dressed up…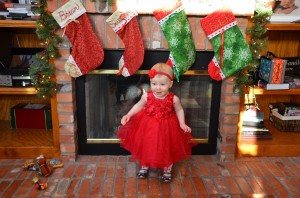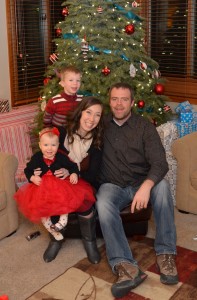 …and made the trek all the way down to Centennial to attend a service that was offering camel and donkey rides afterwards :).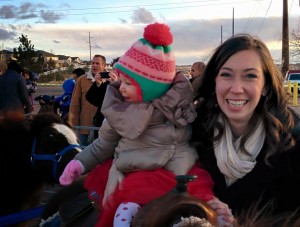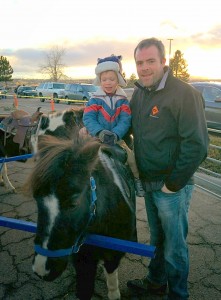 Then we all went out to eat at Panera together, which was very fun and unique for Christmas Eve :).
CHRISTMAS DAY!!
We let the kids open stockings before breakfast, and I'm pretty sure those little trinkets from the dollar store are some of their favorite gifts :). After our big breakfast, we dove into the pile of presents.
The Big Man on Campus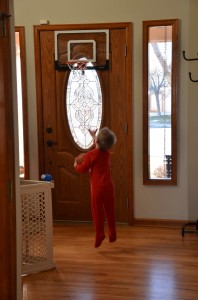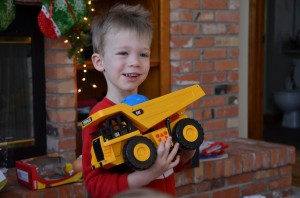 The Baby Bean
Selah was nothing short of PURE DELIGHT as she opened up each gift. Though she was MOSTLY passionate about climbing on the presents…
But when she finally got to open them, she would SCREAM at the top of her lungs as she opened each present, and then proudly show it off…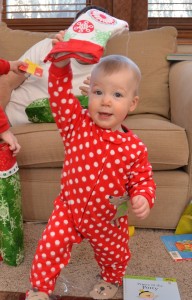 The Daddy of the House
I won't even bother telling you about all of the thoughtful, nice gifts that I got for Brian, because THIS one was his favorite and the only one he talks about…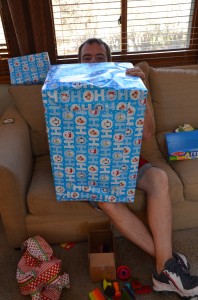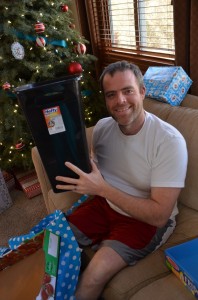 La Mamacita
Apparently Santa picked up my several (hundred) (not-so) subtle hints about what I wanted…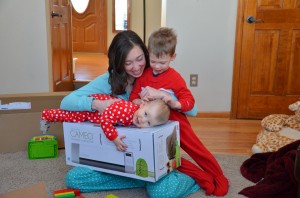 My other really fun gift was from Elliott, who apparently has been quite bothered by my "broken" slippers (they have had a hole in the toe for months)…he told Brian they should get me new slippers for Christmas!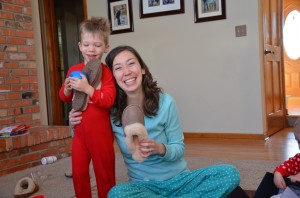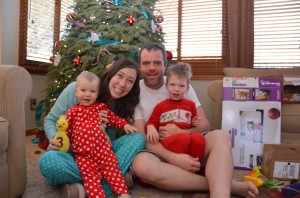 We celebrated with my family the next day, and it was truly a memorable meal that involved smoke alarms and a ridiculous amount of smoke :). NOT my mom's fault…definitely the oven's fault, but wow–it was quite the ordeal. Doug and Melanie saved the day by keeping all the kids happily locked in my parents' bathroom and playing very entertaining games to keep them laughing hard and distracted from all the craziness. Brian stood on top of a ladder and disabled the smoke alarm that wouldn't quite ringing, and somehow, in the midst of it all, my mom STILL managed to produce the most phenomenal Christmas dinner. There's just nothing like your mama's cooking, is there?! It was excellent.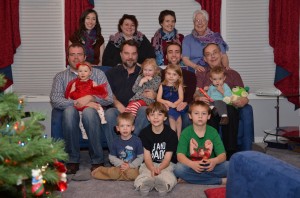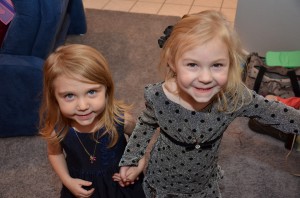 Haven't had enough yet? Well, here you go: