Well, amigos, the Mexican Mobergs are officially hanging up their sombreros and saying, "Adios" to Meh-hee-koe.
It was exactly a year and a half ago that we decided to completely abandon life as we knew it and take what was, for us, a bold step of faith, and become missionaries outside of this broken little city called Tijuana. We spent two months on outreach before settling down here in Mexico just over a year ago.
And what a year it has been. We have learned what feels like a lifetime of lessons in just 16 short months. As any God-given adventure should leave you, we will never be the same.
Like little children anticipating their first day of school, we had many pictures and ideas in our heads of what it would be like to be full time missionaries for YWAM San Diego/Baja. Yet all we were certain of as we hopped on that very first flight to the DR which began our journey, was that the only thing we could be certain of was that there would be so many unknowns. Isn't that the way of faith? Sure of what we hope for, certain of what we do not see…
For us, we were sure in the character of our God, and certain that He had a good plan for us, to grow us, to teach us, to prosper us. And oh, my, have we grown. I mean, we started out with just one kid, and now we have two!
But seriously, Brian and I have grown tremendously. We have learned–so much–about ourselves and about others. He has prospered us–abundantly–in ways that we couldn't have planned for ourselves. I never would have (though I probably should have!) guessed that our faith would be so challenged in the last year. And it has been wonderful. Wonderful in the way that you feel after you have worked out and your muscles are loose and strong. Although you are tired, you are energized. And you are ready for the next workout to begin.
We had every intention of staying with YWAM SDB longer. Not only did we have the intention of staying, but we were so excited about staying.
So, why are we leaving now, you ask?
Well, the following scriptures sum it up quite perfectly:
"Many are the plans in a man's heart, but it is the LORD's purpose that prevails." (Proverbs 19:21)
"In his heart a man plans his course, but the LORD determines his steps." (Proverbs 16:9)
To us, the scriptures are very clear–we can plan our course, but it is GOD who determines our individual steps. And within the course that we plan, it will always be HIS purpose that prevails.
And thank God for that! What peace comes from knowing He will lead us in the way we are to go according to His best for us…
So we had planned our course–staffing the DTS through March–but in an intricate web of purposes that we will probably never know the fullness of, God has determined our steps. And in this case, it is to step away from full time missions and step into…. (drum roll please!)
And so here we are again, with a clean slate, no job, two perfect children and (sing with me!) a sombrer-o in a palm tree!
The last time we had a "clean slate" like this, we at least had a home! But now, we are starting from scratch in every arena of our lives…we need a new country, a new home, and a new job! Although this kind of slate may sound scary to some, we are so excited to walk this path of figuring out what's on God's heart for us next. His purposes for us have been so grand in the last 3 and a half years, that we would be foolish to not expect amazing purpose ahead.
We couldn't possibly be more grateful for this last 16 months. The Lord has done a work in our lives that we wouldn't trade for anything. Wanna hear a few things that He has done in us? Ways that He has grown us, taught us, and prospered us? Well, read on, mis amigos!
Mexican Moberg highlights from our time with YWAM San Diego/Baja
"Every good and perfect gift comes from above, from the Father of lights." (James 1:17)
We have had so many "good and perfect gifts" fall down upon us in this last season. So many. We have been humbled, blessed, and oh-so-grateful for every way our family and close friends have rallied around us to support us–financially, emotionally, spiritually, practically. Although you have all certainly been part of advancing the kingdom down here in Mexico, you have also been a part of advancing the Kingdom in our hearts as the Lord has taught us so, so much. Thank you for supporting us and for journeying with us!
"This is my commandment, that you love one another as I have loved you." (John 15:12)
Our new YWAM friends. There are so many of you, and too many to name in this post. (But if you're our friend, and you're part of YWAM, then we're talking about YOU!!) It's amazing how quickly you develop friends from all over the world when you're part of YWAM. And though we love ALL of you, there are a few who, I'm sure, will remain dear in our hearts forever. Our DTS friends will probably always be our favorites :).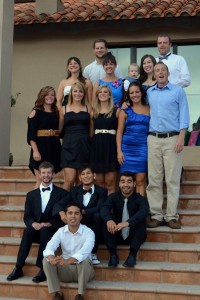 Among our DTS friends, Rayel has become a part of our family. I'm really not sure what Elliott is going to do without her, as he asks about her daily and she is his favorite playmate. Rayel lived with us for (too short of) a season, and we just love her dearly. And, though I promise I will encourage her to always follow the Lord's leading in her life, I am also fairly certain that I will (continue to) try to convince her to come live with us again :). She is just so dear, and we are going to miss her terribly!!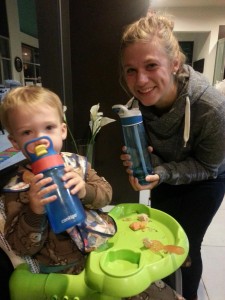 Jarot. We love Jarot. Jarot has served our family extravagantly since the moment we first crossed the border in moving here. Literally. He helped us get all of our stuff to Mexico (which is not an easy task!), and has been here for our family every time we've been in need. His heart to serve at the drop of a hat is extraordinary, and we have been so, so blessed by his faithfulness to our family.
Though I could write a whole blog post on this, a few sentences will have to suffice: the other moms in this community have done nothing but lavish love on us since we've been here. Jamie has been my saving grace more times than I can count as she has made and given me a number of items that have made my life A MILLION TIMES EASIER. She's like the baby stuff whisperer :). I am so grateful for her over this last year, especially as we've probably written an entire book through email regarding babies and their crazy sleep habits!!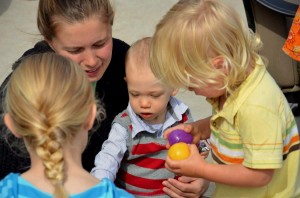 Korrin has a heart of gold and loves others lavishly and deeply. She is a mum to the three cutest kiwi boys that I've ever known and spear headed throwing Selah a phenomenal baby shower despite the MILLION other things on her plate. She and her husband have included their children in their ministry, and it has been inspiring to watch. Rachel is a faithful, faithful friend whose stories about herself and her son have me rolling every time I see her. She is always real, and you will always find her serving someone. These three women (who all have boys just a bit older than Elliott) have been such a gift in this season.
Giezi and Amanda. Wow, do we love this team. They have been heart friends, whom we can laugh with, be real with, share our struggles and our victories with…besides both being extraordinarily gifted, they have such tender and soft hearts toward the Lord and are some of the easiest people to just LAUGH with… We knew we loved them the moment we met them a year and a half ago (are you crying yet? because I am…), and our admiration and respect for them has only grown over time. To say we will miss them dearly doesn't come close to communicating the reality of how sad it is to say goodbye.
NUMERO TRES:
"Then the King will say to those on his right, 'Come, you who are blessed by my Father; take your inheritance, the kingdom prepared for you since the creation of the world. For I was hungry and you gave me something to eat, I was thirsty and you gave me something to drink, I was a stranger and you invited me in,  I needed clothes and you clothed me, I was sick and you looked after me, I was in prison and you came to visit me.'  "Then the righteous will answer him, 'Lord, when did we see you hungry and feed you, or thirsty and give you something to drink?  When did we see you a stranger and invite you in, or needing clothes and clothe you?  When did we see you sick or in prison and go to visit you?'  "The King will reply, 'Truly I tell you, whatever you did for one of the least of these brothers and sisters of mine, you did for me.'"(Matthew 25:34-40)
 It has been such an honor to be a small part of pressing forward the Homes of Hope ministry here. Although we have only been able to focus a small portion of our time on this ministry while we've been here, we did get to sponsor a home build of our own for Elliott's first birthday and Brian's had the opportunity to oversee a number of builds for many different teams. In YWAM San Diego/Baja, you have never seen a more dedicated group of believers strapping on their tool belts almost every weekend to build homes for Mexicans who don't have one. It's an incredible sight, and over 125 families now have homes just in the time that we've been with YWAM. Isn't that incredible?! And this all started with Sean and Janet Lambert and their three little girls. Such an inspiration to raise our kids selflessly looking outward!! We have said it dozens of times–the spectacle of this base is a SIGHT to see…and what an honor to be a part of it! (And if you and/or your family ever want to come on a mission trip, COME HERE!! You will surely, surely leave changed!) YWAM San Diego/Baja, our hat sombrero is certainly off to you!!!
NUMERO CUATRO:
So when they had finished breakfast, Jesus said to Simon Peter, "Simon, son of John, do you love Me more than these?" He said to Him, "Yes, Lord; You know that I love You." He said to him, "Tend My lambs." He said to him again a second time, "Simon, son of John, do you love Me?" He said to Him, "Yes, Lord; You know that I love You." He said to him, "Shepherd My sheep." He said to him the third time, "Simon, son of John, do you love Me?" Peter was grieved because He said to him the third time, "Do you love Me?" And he said to Him, "Lord, You know all things; You know that I love You." Jesus said to him, "Tend My sheep." (John 21:15-17)
Probably the biggest reality that we've discovered about ourselves through this adventure of being missionaries is that we are primarily passionate about 'feeding the sheep.' We have had a huge passion grow within us to fulfill the great commission to, "Go and make disciples of all nations," (Matthew 28:19-20). Whether we are at 'home' in the USA or in a foreign land we desire that our lives would be marked by the visible fruit of transformation in the lives of the people around us (particularly the ones we are discipling intentionally.) For us, as we shared in our last update, this means to press others into the fullness of the gospel, the fullness of abundant life, the fullness of the freedom that Christ died for. For us, this means intentionally seeking for true salvation in our lives and the lives of those around us–true salvation, meaning healing, wholeness… For us, this means pressing for true repentance in our lives and the lives of those around us–not just confessing our sins (those pesky habits that keep us from the love of God) but also repenting of our sins (turning away from them and not continuing to do them!). For us, this means pressing others into the fullness of their callings in Christ. We have no idea what it will look like for us to "tend His lambs," but we are expectant that He will honor our hearts. We have gained a real burden for God's people (the church) in the last year, believing that we, as the church, are meant to be radiant in every aspect of our lives. So although we do have a heart for missions (and might even step back into it one day!), this is what's on our hearts right now.
And so…what of my dreams, you ask? Well, my friends, I would say this: I'm grateful my God promises me GREAT, when often I can only see GOOD. And because of that, our dreams have just barely begun…
So! Stay tuned :). Thank you for reading and tracking with our lives! We are excited and expectant for what's ahead!
Love,
The former Mexican Mobergs 🙂
#butiwillalwaysbemexicanatheart