We did it! Another school year planting seeds and building up these kids of ours in the Word of God and His truth. We studied modern American history this year and boy, oh boy, did we study some HEAVY topics–obviously. But what a gift to get to work through these wars and hard events in our nation's history from a biblical worldview. Lots of pondering, lots of discussion, lots of ties to our current nation and world issues.
So besides, modern history, we studied botany and zoology; Van Gogh, Cassat, and Monet; William Blake, Carl Sandburg, and Maya Angelou. For nature study, we focused on reptiles, fish, amphibians, Colorado Winter, birds, and flowers. They memorized Psalm 103:1-14, Isaiah 53:1-6, and Philippians 4:4-8 (and tons more scripture for church but I am just including school-related things here!) Selah can label all the countries in Europe and if you hand Elliott a blank piece of paper, he can draw and label all of Europe for you. The kids read well over 450 books just for school alone. We enjoyed so many together as a family, but some of our favorites were Amos Fortune, Number the Stars, Caddie Woodlawn, Elijah of Buxton, Rifles for Watie, Winged Watchman, Snow Treasure, Shades of Gray, and Across Five Aprils. The kids performed in Shakespeare's Macbeth, which, you may consider an odd choice for an elementary school play. But when you look at this great work from a biblical worldview, it's actually a fantastic learning tool, to recognize good versus evil and to see the depravity that lies within all of us. The kids each studied and dressed up and gave a speech as a person during the historical time period we studied–Elliott was Abraham Lincoln and was THRILLED to be able to tie coins into his presentation and Selah, who was Helen Keller, really enjoyed studying Helen Keller in depth and writing out all of her classmates' names in braille. The kids excelled in another year of Latin study, which included memorizing the Lord's prayer, The Sanctus, the Gloria Patri and the Table Blessing. Of course, the Winter Market was one of their highlights of the year. This year they tag-teamed and designed/built these adorable little reindeer together. They sold out at the Winter Market and received many more orders!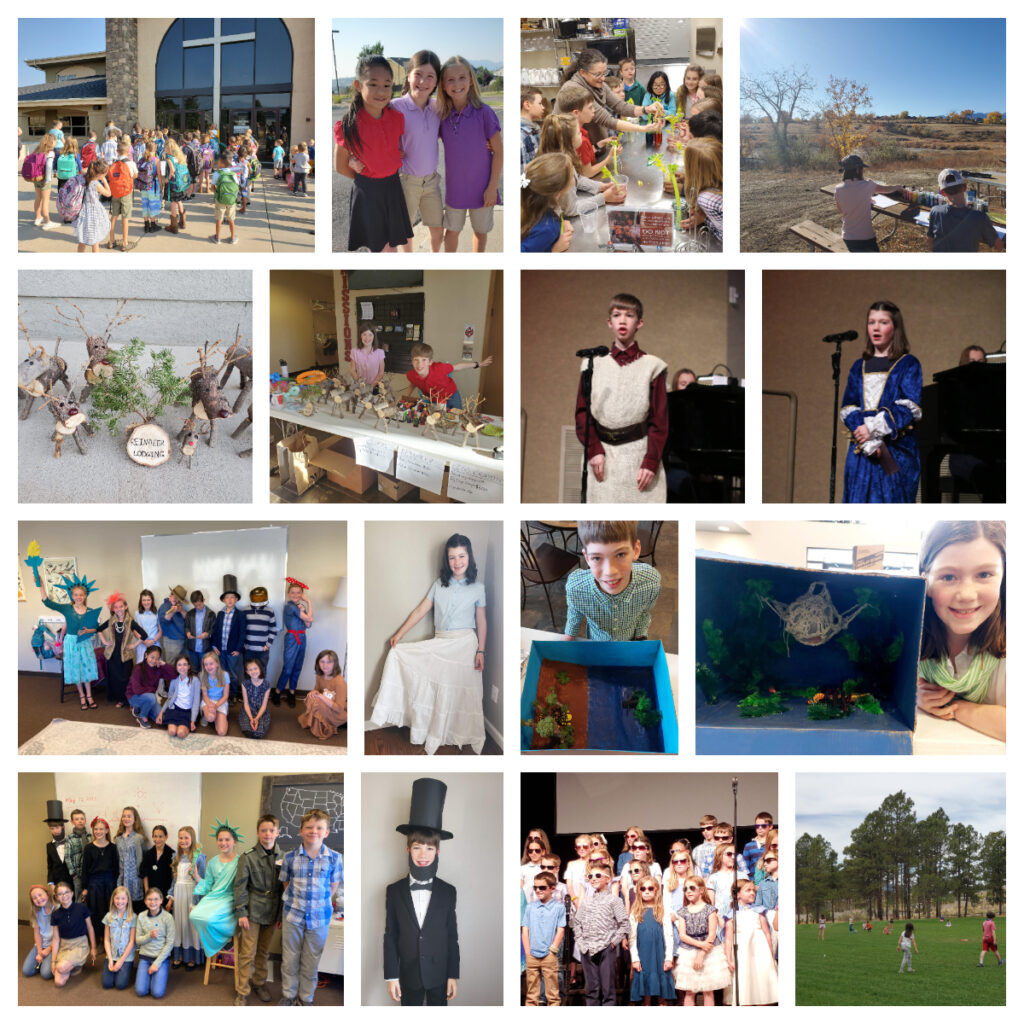 I'm really not sure a day goes by that I'm not exceedingly thankful for this sweet little community we have! I thank the Lord for another year with this little school and for another year of homeschooling.
And now for all the growth that happened this year:
Elliott. This man is growing up! I feel 100% dependent on the Lord being his mama, and seeking wisdom for how to shepherd his growth without stifling him or having "girl" expectations on him. I am learning *a lot*. He is growing more and more fond of aquatic animals and chose to do his science project on one of our new favorite animals: the tiger salamander. We have all learned so much this year about this animal, which happens to be the Colorado state amphibian! We didn't know we had them in our pond until the end of last summer. I love seeing how the both the kids' "want to be" sections change on the little surveys they fill out at the beginning and end of each year. This year we had several fires break out in Colorado Springs–three in one day once!–and one of them was within a few miles of our house. The kids got to watch a helicopter grab water from a reservoir and dump it on the fire over and over. So, aerial firefighter made his list of future jobs this year, along with coin collector and aquarium owner :).
Spiritual growth: He grew tremendously in self-control and obedience this year which made for very pleasant homeschool days for all of us! He has also excelled in Scripture memory, having memorized not only the verses for school but many different whole chapters of the Psalms, including all of Psalm 136!
Academic: He mastered his 13s and 14s in multiplication and division. I do not know those by memory so it was a lot of effort grading his tests each day, ha! His typing improved from 8 wpm to 26 wpm and he can also write in cursive much faster than he could at the beginning of the year.
Life Skills: He excelled in shoveling driveways during the winter and definitely prefers "going to work" than doing school. I'd say that's a pretty important life skill for a man! He also improved tremendously on doing his daily chores with excellence. And, perhaps my favorite is that he has learned how to make a pretty mean chocolate peanut butter ball. He and I adapted our original recipe to be more whole-food oriented and they are DELICIOUS.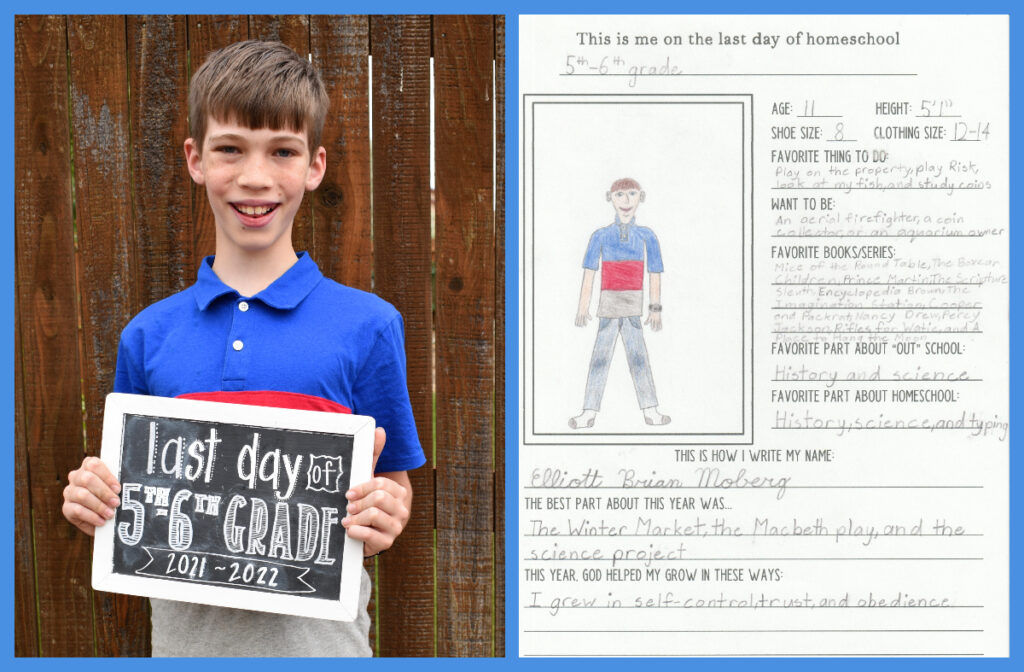 Selah has also grown in so many ways this year. In addition to selling the reindeer at the Winter Market, she made and sold balloon animals. It was such a joy watching her interact with the littler kids, patiently taking their requests and loving them well. She was quick to provide free replacements when a child got a little too wild with his sword and it popped. I think she just might have a balloon animal business in her future… I'm actually a *little* concerned over her total obsession with (addiction to?) reading. Can that be a thing? Addicted to reading? She has always lived all of life with a book in one hand, but this year she really got into audiobooks, so now she doesn't even need one free hand to read. She spends hours in her room drawing, painting, building, and designing while listening to audio books. I literally can't check them out fast enough from the library. Part of the issue is that she listens on 2x (or higher) speed, so she sometimes goes through several books a day. Well, there you have it. I've admitted it. That's the first step towards getting her help, right?
Spiritual: She continues to have a more and more contrite heart each year with a true desire to grow and be like Christ. By God's grace, she is learning to gentle her tongue towards her brother and trust me even when she doesn't like what I'm asking her to do. It is a true joy to be her mom.
Academic: She mastered her 13s in multiplication and division and I finally got smart at the end of the year and started having Elliott check her times tests since I don't know my 13s! (#momwin) Her handwriting is improving and she also can write in cursive much faster than she could at the beginning of the year.
Life Skills: This girl is FINALLY learning how to keep her room clean!! I will not write a novel about that drama but just take my word for it–this is a BIG WIN. She is also doing her chores with much more excellence and my favorite thing is that she always sings while doing them.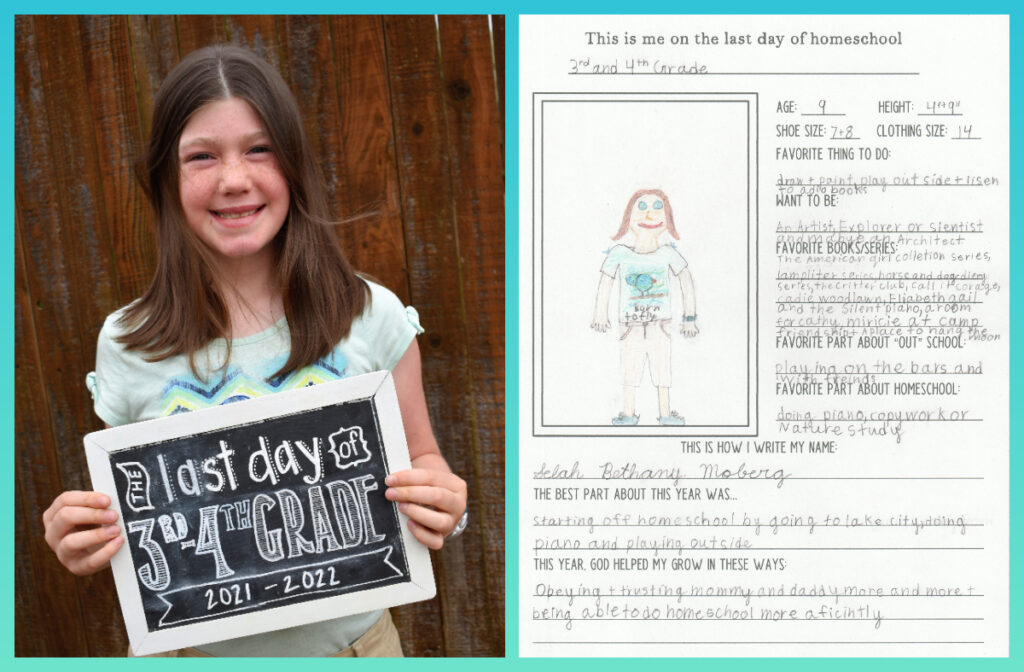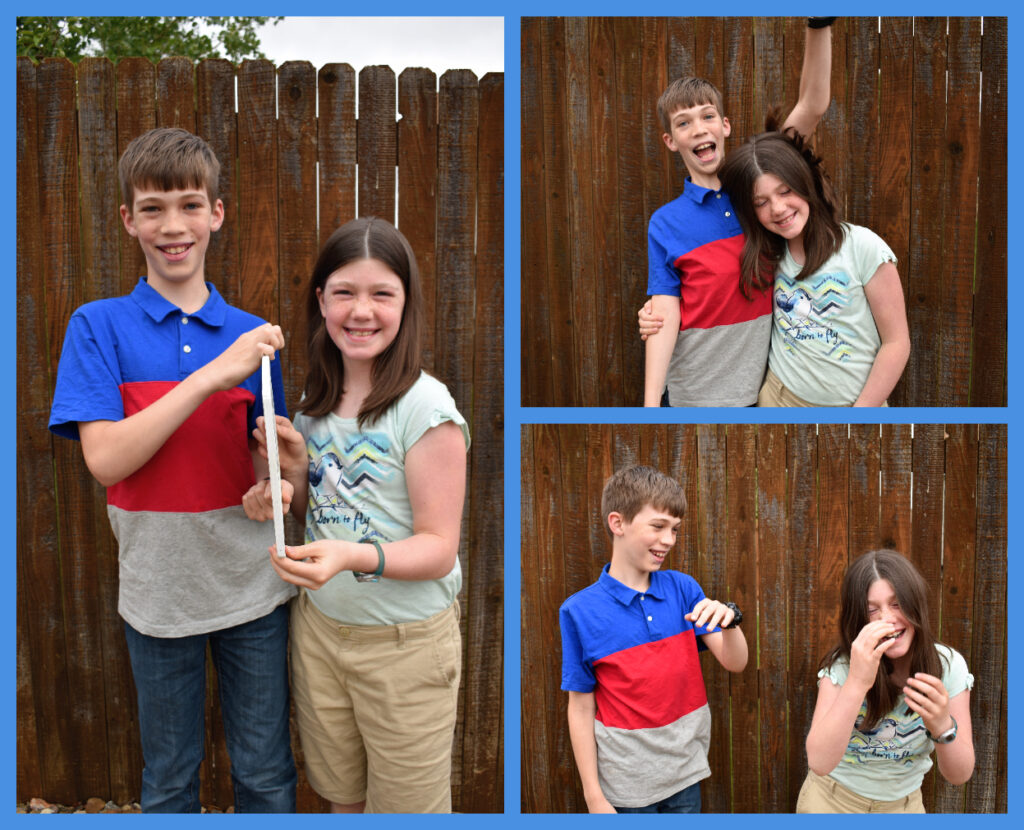 And, drum roll please…the compare and contrast: