So there we were, at the top of a mountain on our very last day of our big Moberg family ski vacation, and we got "the call." All schools, churches, sports, etc. were shut down for the next 6 weeks in Pierce County. I'll never forget my niece, with shock on her face, shouting, "Does this mean we're going to be HOMESCHOOLED?!!!" Hahahaha! Although we were always planning on taking Grandma and Grandpa home with us, the rest of us had all been planning on heading our separate ways home the next morning. But that night after realizing the three oldest cousins had no commitments at home, we decided to take them home with us, too! Why not?!!!! The only problem was, we didn't have enough seats for everyone! Thankfully we worked out a plan so that Taylor could fly in and meet us at home. The rest of us piled into the Suburban and we rented a uhaul for all of our luggage!  Here's a little glimpse into our two weeks of Quarantine Cousin Camp!!
The drive home from Idaho was, admittedly, slightly terrifying at moments. Just after passing Bozeman (where, P.S., we had a super fast but incredibly delightful meet up with Jenny, Clayton and kids!!) it started to snow and the roads got super icy. We passed more flipped cars than we could count and watched a guy roll in front of us. But, thanks be to our gracious God we made it through safely. Later, we managed to pop a tire on the uhaul in Wyoming. Good times.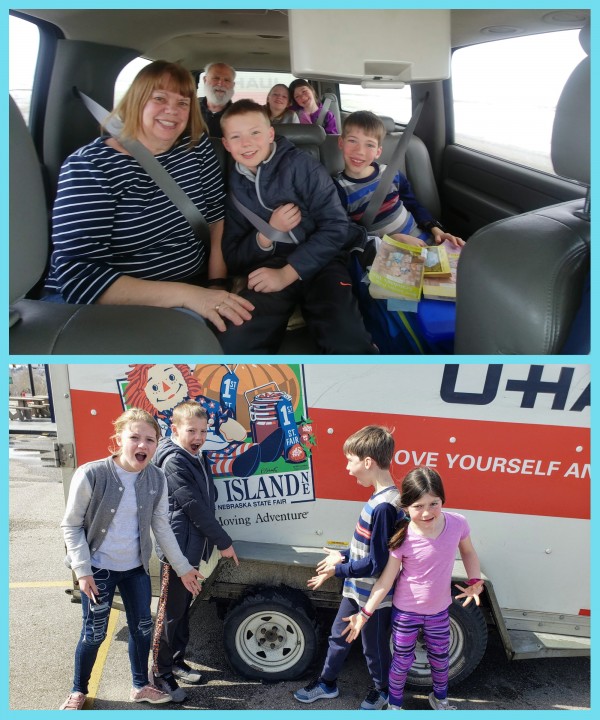 As we neared Colorado, the texts and emails started rolling in that Colorado was beginning to shut down. So as schools everywhere closed down, our Moberg homeschool enrollment more than doubled!
We got settled on Sunday and Monday morning we hit the ground running. Needless to say, it was a BLAST. What a JOY to be quarantined with their cousins and grandparents!! Homeschool was way more fun with the three cousins added into the mix and it sure made acting out our history lessons a whole lot easier!! The kids played hard, learned a ton, had lots of opportunities to work through offenses (added bonus!!) and truly the whole time was such a gift from God.
While they were here, my phone kept popping up with "this day 7 years ago" and "this day 8 years ago" photos, which I think were the last times these cousins were together during the month of March. So, of course, we recreated them real time :). Check these out…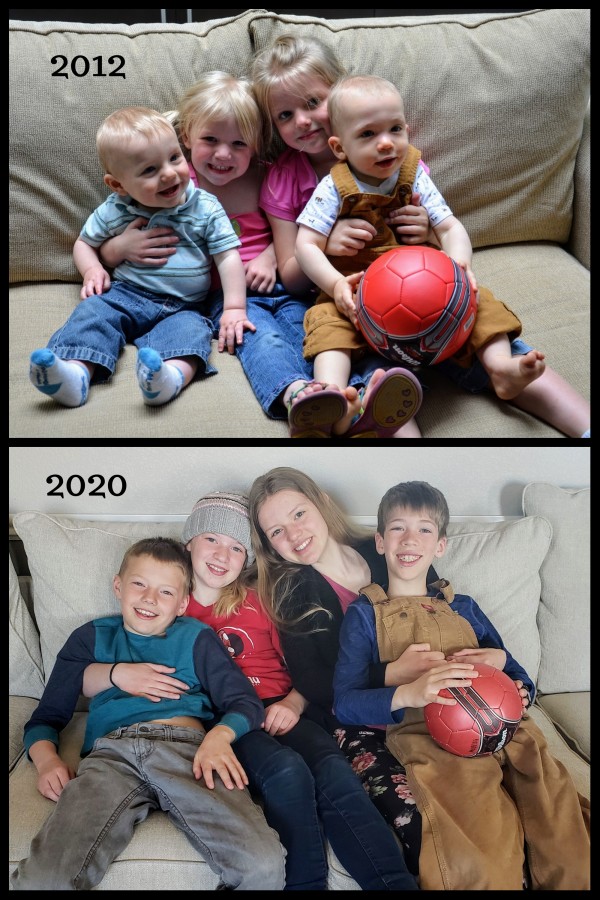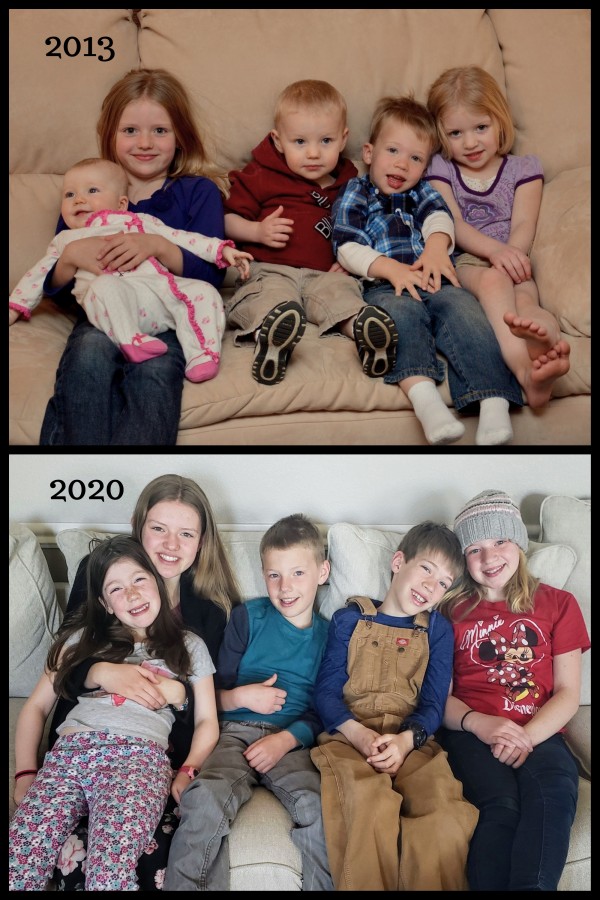 Still wearin' those overalls. 🙂 I just love before and "laters"!!
Honestly, I wasn't sure how the kids would handle jumping into our routines, but it felt absolutely seamless. They are super eager and joyful learners and they fit right in! They stepped right into all of our learning–devotionals, scripture memory, poetry memory, hymn memory, history songs, nature study and painting, history, science, math, bible reading… Hailey even inspired Selah to learn how to crochet. The cousins read the books that Elliott and Selah have published and begged to write, illustrate and publish their own. And they did! The kids did a couple presentations and at the end of the two weeks presented all they had learned for Brian, Grandma and Grandpa. Seriously, such a blast!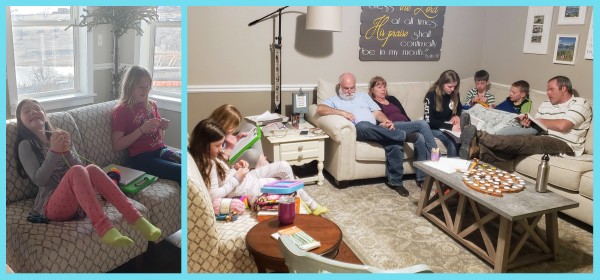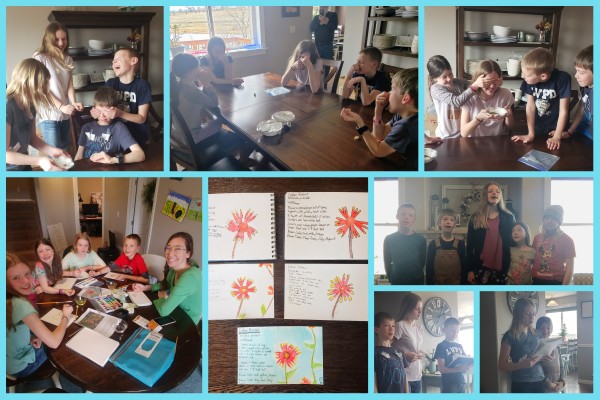 Did I mention the kids had lots of opportunities to work through offenses?!! 🙂 We spent a lot of time during our devotionals learning about friendship, biblical teamwork and ways to respond to each other in the midst of offense. (Don't we ALL need these lessons and reminders?!!) It was so rich! I'm thankful Hailey and Taylor brought in the "hug it out" principle!! One of the things we do in our home is a "build up pyramid." We've talked A LOT about building each other up in Christ rather than tearing each other down with words and actions. Each time I catch Elliott or Selah building each other up they get to put a lego onto a pyramid they're working together to build. It's served as a fantastic visual for them. We brought the cousins right into this and they built up the pyramid twice–once each week! To celebrate, we roasted s'mores each time. I think God was celebrating along with us–check out that sunset!!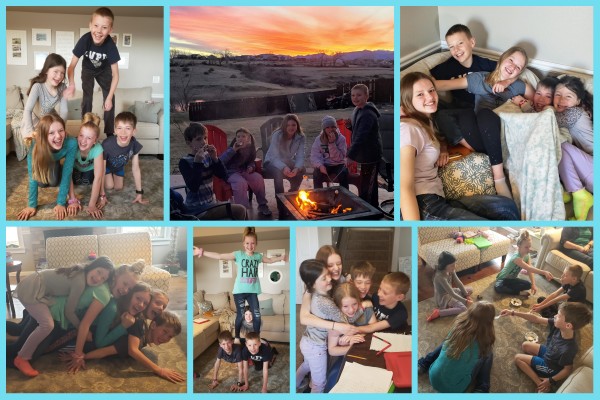 We were able to bring them to the Garden of the Gods on a gorgeous sunny day.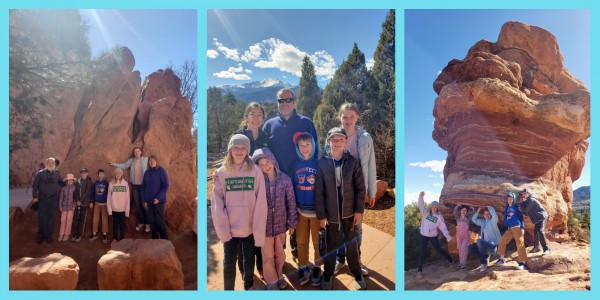 And, of course, finally introduce them to our property where we played hard together!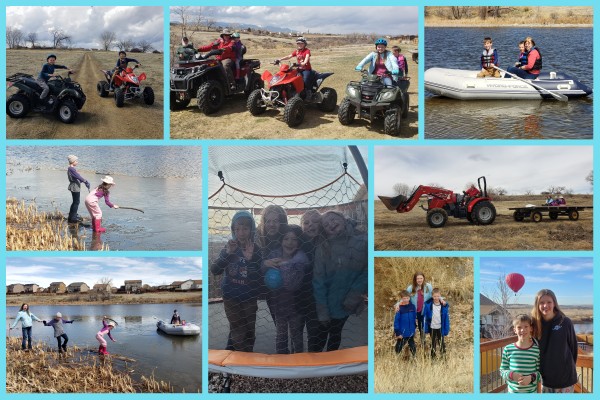 I honestly just kept catching them like this…laughing and snuggling and hugging!! There was an abundance of joy and laughter!!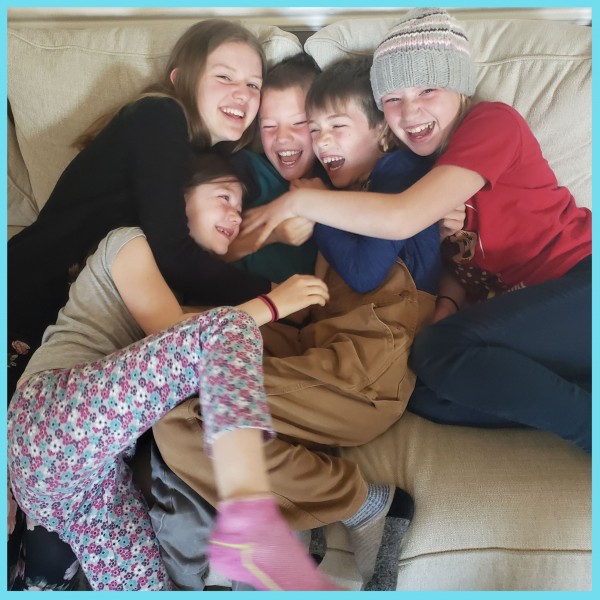 This felt like a once-in-a-lifetime opportunity and I'm so grateful God orchestrated the world to give us these ultra special two weeks with cousins and grandparents!! If anyone else wants to come over and quarantine with us, we're taking applications!! 🙂