"Our God does not intend His people to be shipwrecked. However, we would be shipwrecked and lost if we could not be held fast in the hour of temptation…He bought you at too great a price and values you too much to see you broken to pieces on the rocks. Therefore, He has provided a glorious safeguard for you so that when…the trials of the world attack you, hope may be the anchor of your soul, both sure and steadfast. How much we need this anchor!…If you have been sailing on the great waters of life for any length of time, you must be well aware that if it were not for everlasting truths, which continue to hold you securely, your spirit would quickly have been thrown into everlasting darkness long ago, and the proud waters would have gone over your soul long before this. When the mighty waves rose, it must have seemed to you as if your poor boat had gone down to the bottom of the sea, and if it had not been for the unchanging love and immovable faithfulness of God, your heart would have utterly failed. Nevertheless, here you are today, convoyed by grace, provisioned by mercy, steered by heavenly wisdom, and propelled by the spirit's power. Thanks to the anchor, or rather to the God who gave it to you, no storm has overwhelmed you. Your ship is under way for the port of glory." ~Finding Peace in Life's Storms by Charles Spurgeon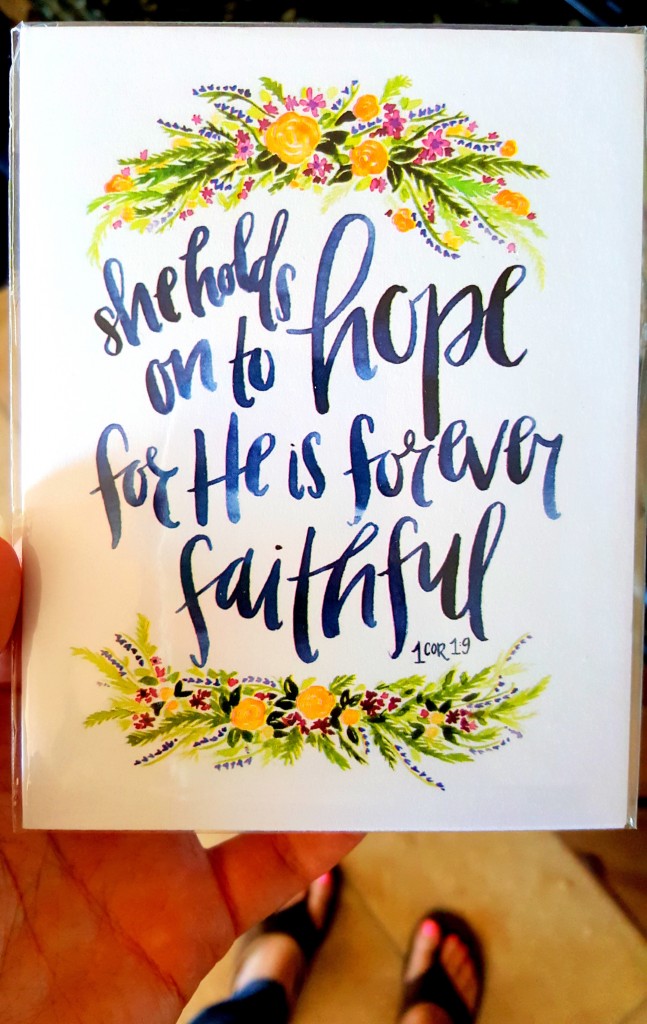 He is good, isn't He?
Where would I be without this hope, without this anchor for my soul? I would–most certainly–be drowned at the bottom of the sea…my heart would have utterly failed.
It is incredible to sit down (when I can!) on these Mondays and just stop to look back and remember. Wow. I just sorted through pictures from the last couple of weeks and in the midst of that little project, the Lord has shown me so much that I don't think I would have seen had I skipped sitting quietly to blog today.
In the last two weeks, I have felt a seedling sprout in my heart. In faith, I have been confident that the Lord has been tending to a good work in me over the months and years. The digging and tilling and planting has been happening out of sight to the world and even to me…though I could feel it, I couldn't understand it or see any visible fruit. But this week a sprout was visible–even to me. He is restoring laughter to my spirit and joy to my soul.
Last week, thanks to the prompting and encouragement from my Step instructor, I sat down to read Habakkuk, a book I haven't read in too long. She had been encouraging me the night before, quoting verses from Habakkuk and as she was speaking I was finishing the book in my head: "Though there is no fruit on the fig tree and no cattle in the stalls…YET I will rejoice in the Lord…" So I sat down the next day to read through all of it and was so deeply encouraged by Habakkuk's wrestles…isn't it amazing when you encounter the very things you have said to God in the book that He wrote for us?? I am not alone.
Though the fig tree may not blossom, Nor fruit be on the vines; Though the labor of the olive may fail, And the fields yield no food; Though the flock may be cut off from the fold, And there be no herd in the stalls– Yet I will rejoice in the LORD, I will joy in the God of my salvation. The LORD God is my strength; He will make my feet like deer's feet, And He will make me walk on my high hills. (Hab 3:17-19)
Then earlier this week, I got this text message from my dear, sweet friend Shaunna. She wrote, "When I pray for you, I always pray that God would fill you with joy, peace, and comfort. But today I also pray that you will enjoy a deep belly laugh and smile from ear to ear…"
I smiled, and immediately realized that she had put to words exactly what I could feel God doing in me…restoring joy and laughter. And there was my friend, hand-in-hand with our mighty God, praying it into existence. Who is blessed with friends like this who walk with you in grief while believing God to meet you with joy?? Thank you, Lord…
Two days later, Elliott had just stepped out into the backyard to play when he came bounding back inside squealing and screeching and shouting, "MOM!!! MOMMM!!!!! MOMMMMMM!!!! COME LOOK!!! OUR FLOWERS ARE SPROUTING!!!!"
To be honest, I didn't believe him. We had JUST looked in our flower boxes the day before, and I had JUST explained to our friends who were over that day that I have a black thumb and although I tried SO HARD to grow these perennials for Elliott so they would attract butterflies for him, that I had utterly failed. But I ran outside with him to look and, sure enough…we had four little sprouts!!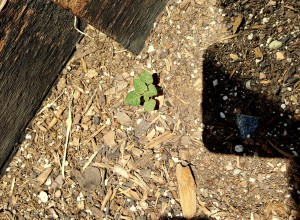 Look at how the Lord weaves every detail of our lives into profound lessons for us. A sprout.
And a sprout of laughter.
It can be difficult to accurately portray reality: I never want to embellish or dramatize what's happening in my heart and our home, and I also want to keep each blog post a blog post, and not a novel (I know, too late!). So I don't mean to portray that there has been NO joy or laughter in our home, because that's not true…there has been. Every day we laugh together as a family and my kids laugh together ALL THE TIME, but it has been hard for me to push aside my grief and just let the laughter roll out of my belly like I know it can. It's been really hard, especially in the day-to-day mundane tasks. If I can distract myself enough to forget, I can find joy and laugh easily. But to find joy when I remember the grief and the loss and the pain? That's much more difficult. But, it's sprouting. I am seeing myself laugh WITH the kids all day long instead of just watching them laugh and trying to remember what it feels like to be that carefree. I am finding true joy in the Lord, in the anchor of my soul, in the midst of the grief and the trials and the dreams that feel crushed. And little by little, it's rolling out of my belly and up through my mouth like a thunderous ball of laughter.
"…and she laughs at the time to come…" (Prov 31:25)
Lord, let it be. Grow your joy in my heart and in our home.
Here are some glimpses of the laughter sprouting in our home in the last couple of weeks…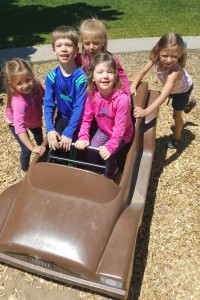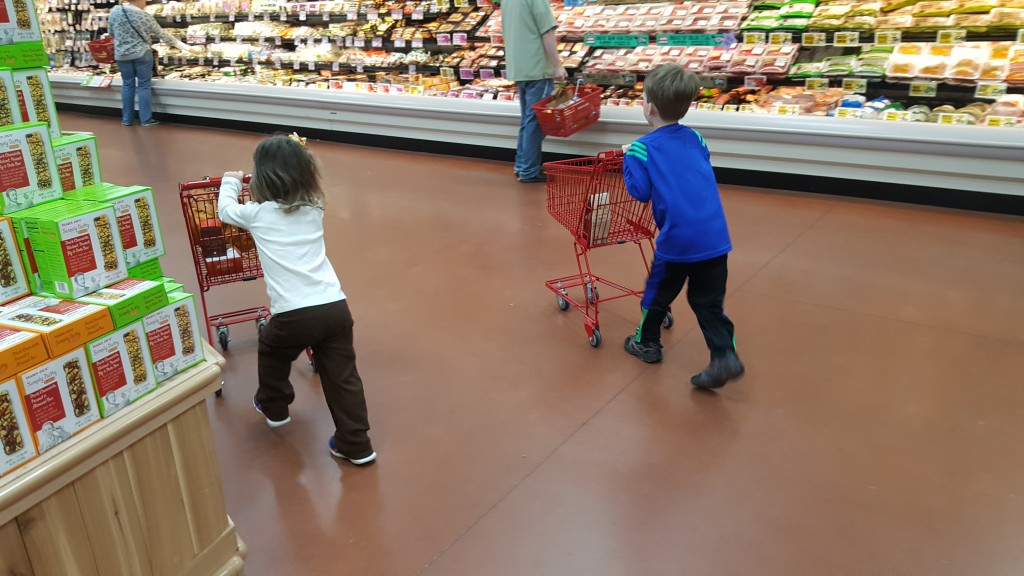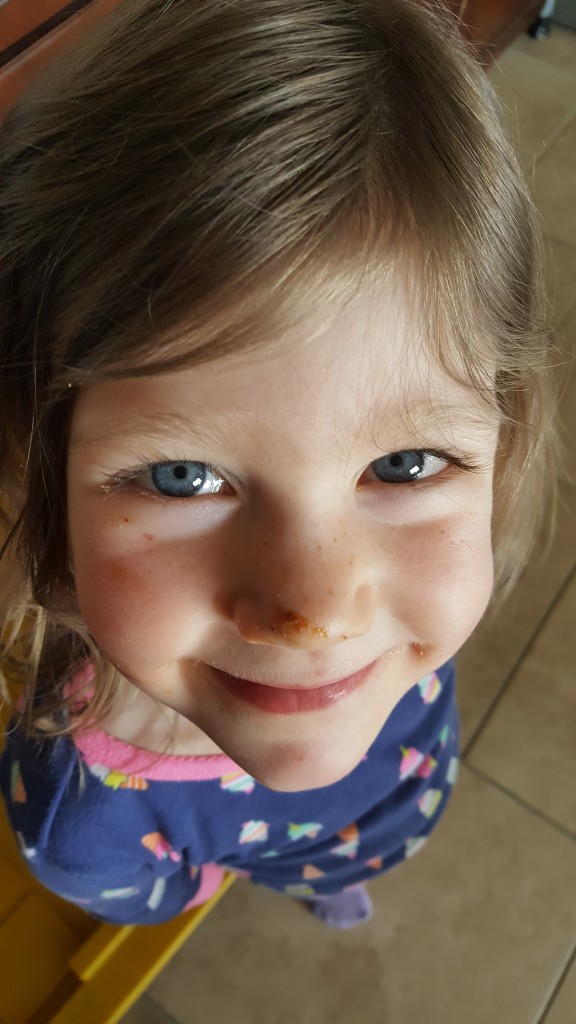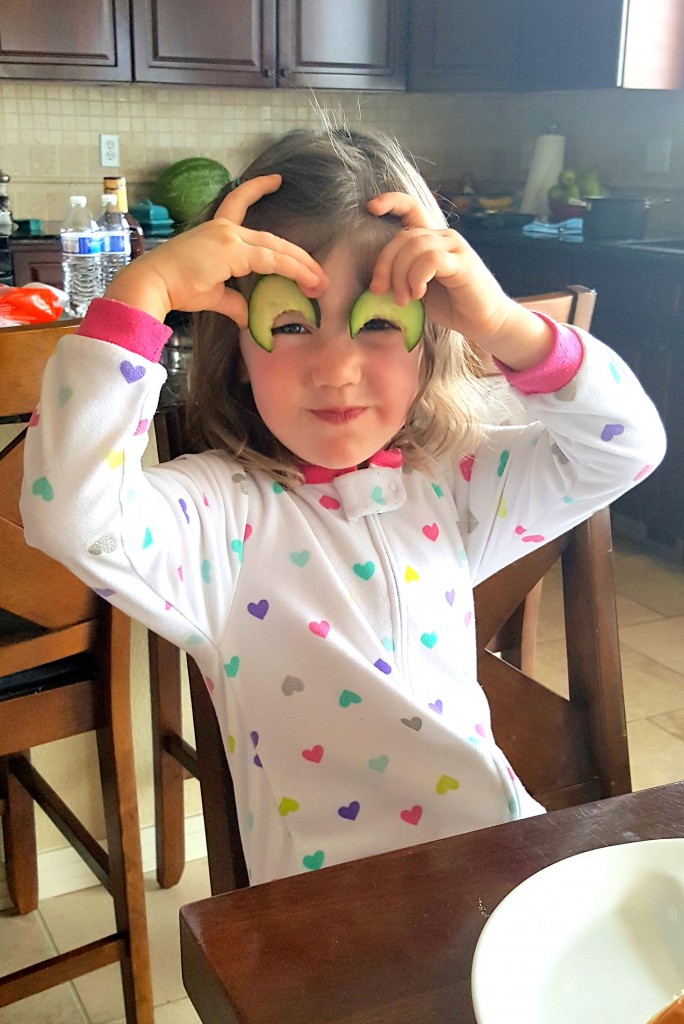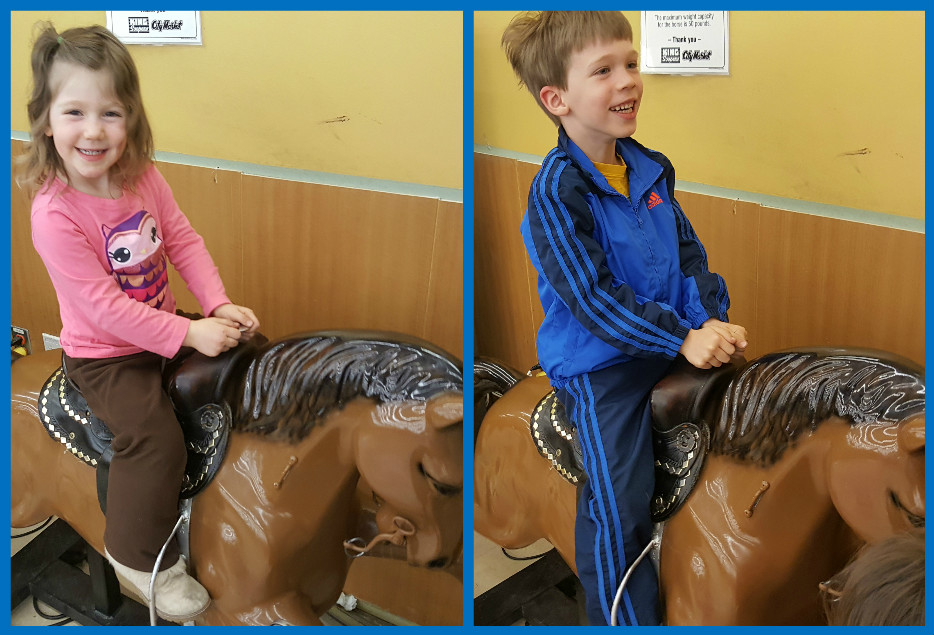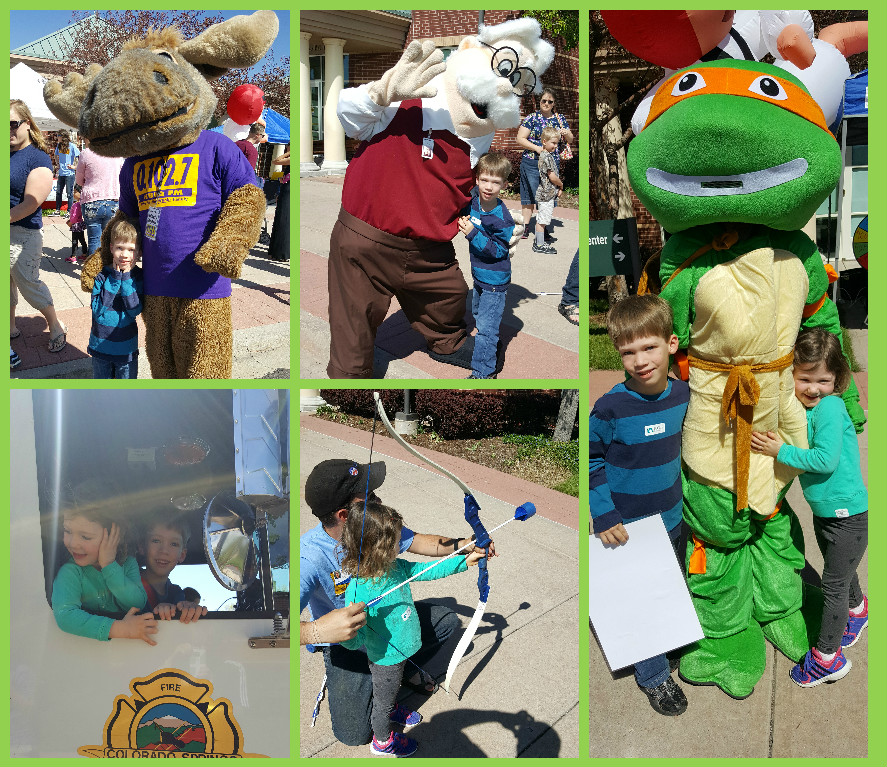 Speaking of bravery…my kids did not get the "animal bravery" gene. We have tried to work so hard with them…thankfully, the McCabes have cats and so the kids get to practice being strong and courageous against these fierce incredibly sweet and cuddly felines every time we go over there. However, all progress may have been lost in that arena when Selah was bit by someone else's cat a couple months ago. Sigh.
So then, my dear friend Julie was in town!!! Her parents live in Guam about an hour and a half away, so I invited her to spend the night over here. She accepted and asked if she could bring her dog. Yes! It was the perfect way to expose our kids to animals, as Lincoln is a super sweet and well-behaved dog. Julie taught them how to play "hide-and-seek" with her, and they just giggled uncontrollably throughout the entire game. They each hid two treats for Lincoln around our living room and then Lincoln had to find them. The kids thought it was hilarious. Julie also very patiently taught them about Lincoln and let them pet her while in Julie's arms. AND…they each wanted to take a turn walking her! Now THAT'S progress!!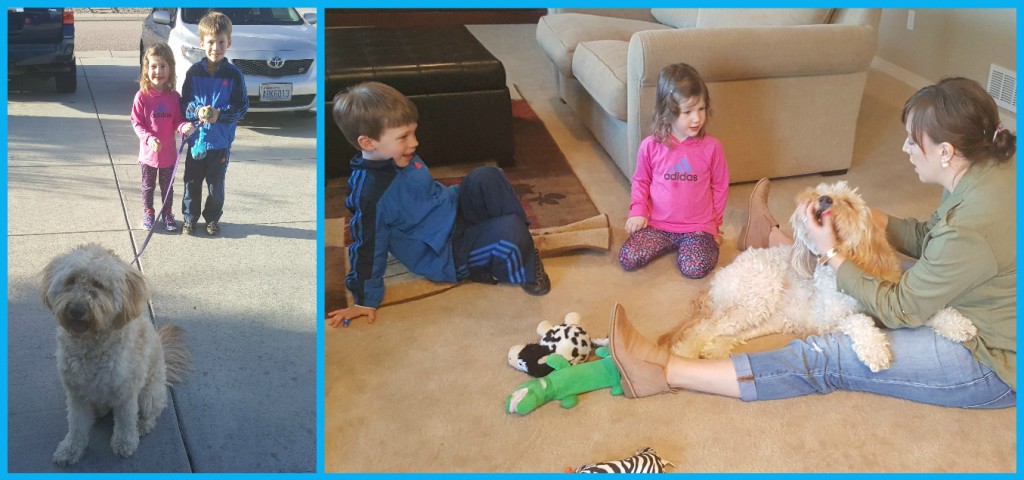 And, I got to spend time with my sweet friend!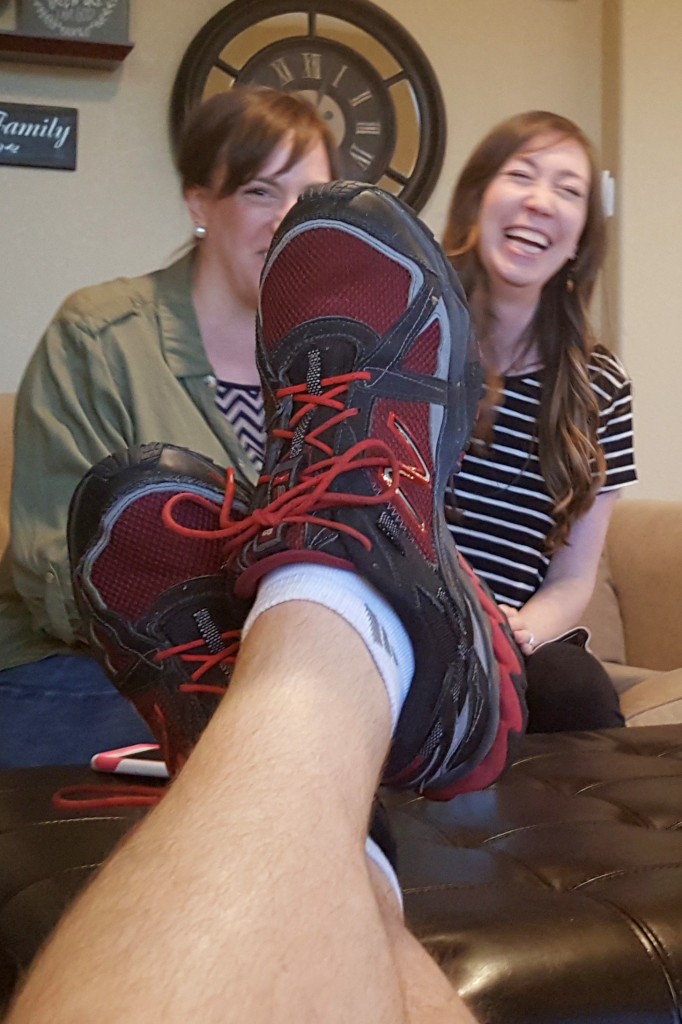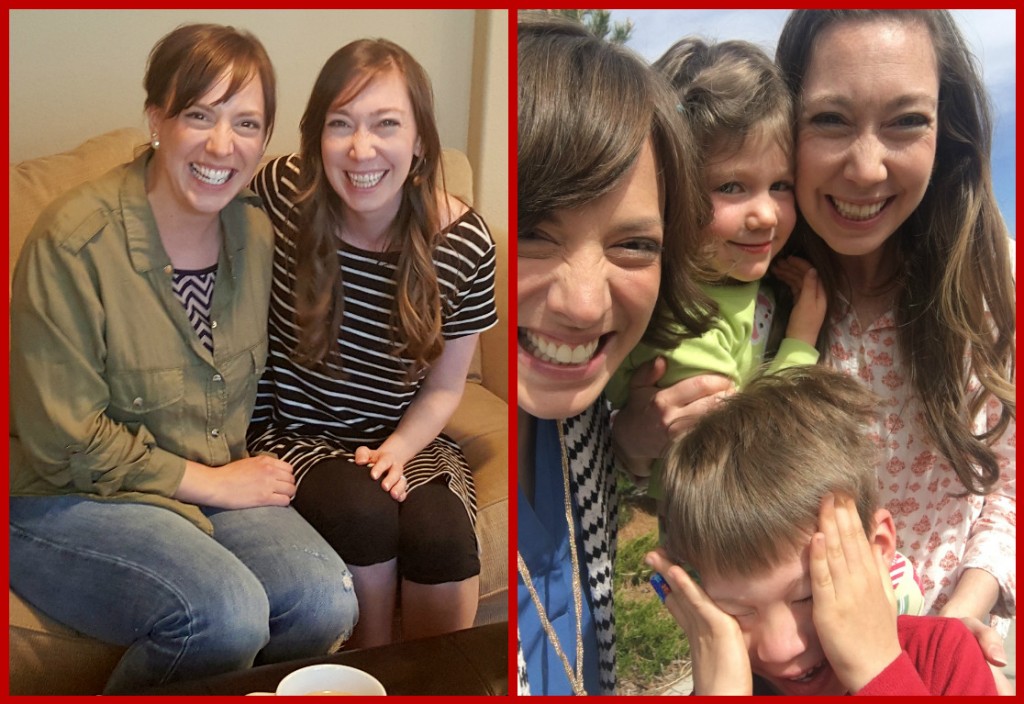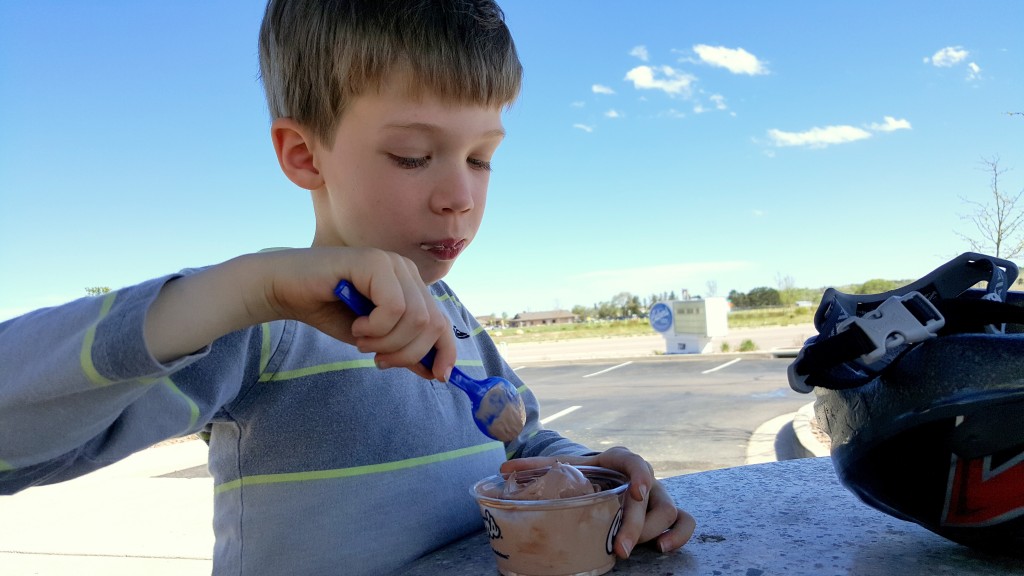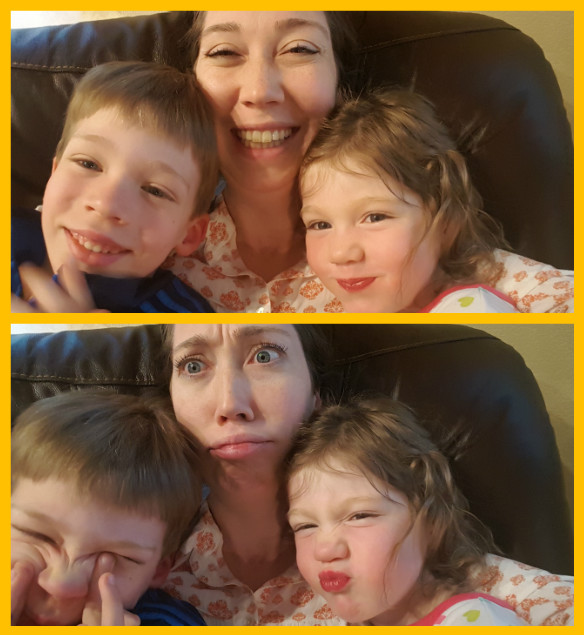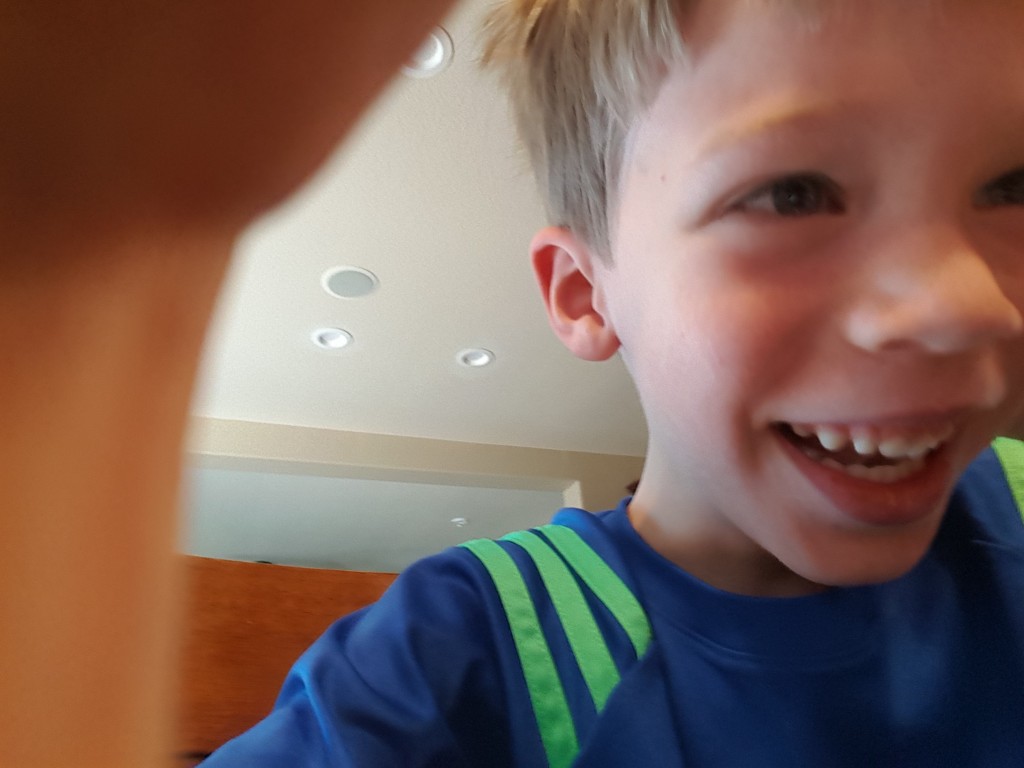 Thank you, Lord, for another week, for sprouts of joy, and for your new mercies.