Well, it's official, folks. We've graduated.
After a wonderful outreach in San Pedro, Dominican Republic, 3 months of having the privilege of hearing some amazing speakers from around the world during our lecture phase of DTS, all to be finished off with our graduation, we are O-F-F-I-C-I-A-L-L-Y YWAMERS!
Brian found out about 2 hours before graduation time that the other 3 guys had rented tuxes for the ceremony. I was still trying to convince Brian to wear khakis instead of jeans…but a tux?! Well, he was a good sport and pulled out the tux that he happens to have hanging in his closet from High School (we are certainly two peas in a pod, aren't we?). Brian's Aunt Bev and Uncle Roy had gotten Elliott this little suit months back, and although it was a 2T, we made it fit :). He only has one pair of shoes, so we also had to make-do with his little aqua shoes :/.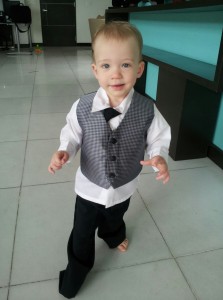 The graduation was held exactly over Elliott's second nap, so he was a little…well, not in the mood to cooperate with photos :). But I was intent on capturing at least one with Elliott and his handsome daddy…here are a few candids that I think are cute :).