Thanks to Alaska Airlines and some saved up miles, we were able to take a little trip to T-town in May to 1. sell some steel in order to get some how-do-you-call-it? Ahh, DINERO. 2. Celebrate Brian's dad's 65th birthday! 3. Celebrate my 30th birthday with dear friends and 4. Of course, see family! Here are some highlights from our trip:
PLAYING DRUMS!!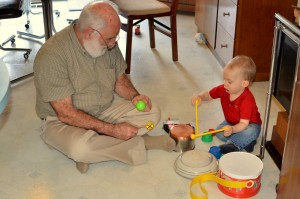 Elliott has L-O-V-E-D drums for months and months now, but "drumming" to him was always just using his hands on our little ottomans. Well, leave it to Grandma and Grandpa Moberg to not only have a drum at their house, but to have BRIAN'S ORIGINAL toy drum from when HE was a baby! As soon as Elliott saw it, it was truly love at first sight. Then one day, Grandpa took out a couple of "special" drums…some pots and pans!! And thus, Elliott's drum SET was born. They had SO much fun playing drums together!
I know this picture is blurry, but I just LOVE it! Can't you just see Elliott shaking his 'thang? Something about the way he's holding his shoulders reminds me of one of my classic "Susanne Dance Moves"…doesn't it?! Elliott has also loved to dance for months and months. His first "dance moves" (starting when he was about 9 or 10 months old) were shaking his head back and forth. So it looks like he's saying "no," but really, he's dancing. Any time we are in public and music comes on, he starts shaking his head back and forth. People always think he's saying "No" to them, and we have to explain, "No, he's not saying 'no'…that's just how he dances!" He sees an ipod and just starts shaking his head back and forth! Ha! Well, anyway, just within the last few weeks he's started to get some shoulder and hip into his dance moves, and it's awfully cute… I think we have a worshiper on our hands!!
KEN'S 65TH BIRTHDAY + ELLIOTT'S FIRST INTRODUCTION TO GRASS
I did a horrible job of capturing pictures from Ken's birthday. As in, I didn't take a single one :/. Honestly, I was so busy stuffing my face full of food, that I didn't even know where my camera was until after the party was over! But it was great afternoon/evening of celebrating Ken with lots of friends and family.
Since it was GORGEOUS while we were in Tacoma (I left Mexico as white as ever and came back to Mexico with some touches of color, thanks to Tacoma!!) we were outside for much of the day. Which led to Elliott's first introduction to grass!! Keep in mind that soon after he started crawling we left for the Dominican Republic, and I couldn't put him in the grass there because of all the spiders + ants. And now, we live in Mexico, where the word "grass" isn't even in their vocabulary. So we set him in the grass, with shoes on, for the first time and he just STOOD there. With his arms out. Staring down at this foreign substance like it was lava. And refused to move.
Eventually one of his cousins knocked him down and he instantly lifted his legs up so they weren't touching the ground, and he just sat there with his arms and legs out in front of him in the air with an incredibly disgusted look on his face…the poor kid. We finally got a blanket out and now I know how to keep Elliott contained…just surround him with grass!! He refused to go past the blanket…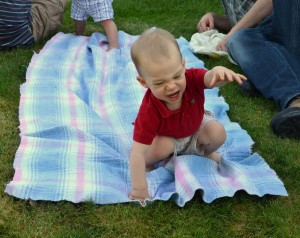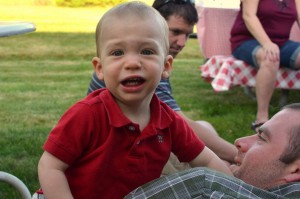 By the end of the evening he had made a TINY bit of progress in being a little more comfortable with grass, but it's definitely not his favorite yet…
Micah has been THEE smiley-est baby I've EVER met in my life…in every picture he is smiling SO BIG while we try to get the other cousins to just sit still for two seconds and look at the camera! But he taught himself this "new look" just since we saw him two months ago. (Tabitha said she caught him practicing in the mirror once!) I think it's so hilarious!!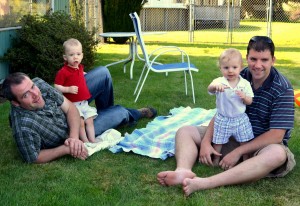 SWING TIME!
Grandma and Grandpa have the BEST backyard…grass, a swing, and even a pool! Grandpa gave Elliott his first swing lessons, and, as you can see, Elliott had a BLAST.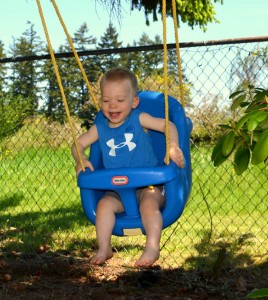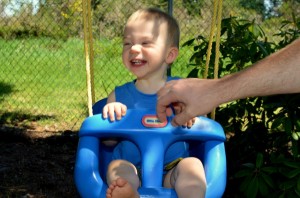 PLAY DATES
One of my priorities for our time in Tacoma was to get as many play dates in as possible for Elliott. Besides his cousins, he got to play with Cody, Arielle, Henry, Katie, Jamison and baby Stella!! He, of course, LOVED playing with his friends and was simply enamored with baby Stella. He has been simply awe-struck every time we've been around baby girls lately…must be preparing to be a big brother!!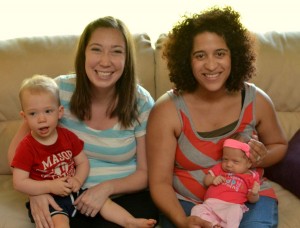 MOTHER'S DAY!
I could write an entire post on what a joy it is to be a mother, and especially to be Elliott's mom. But, let's be real…that's what most of my posts are about :). Our little family celebrated Mother's Day by going back to our old stomping grounds, our old front yard…Ruston Way. It was a GORGEOUS day, and everyone and their mom (literally!! haha!) were there, too. It was so fun to walk along with Elliott, looking at the gorgeous mountain, listening to the waves crash against the shore and breathing in the potent smell of fish :). Later we went to an early dinner with Brian's Mom, Dad, and sister and then headed to church.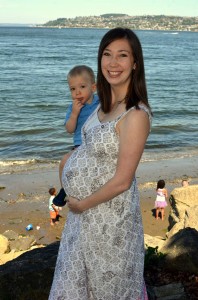 Hasta luego, Tacoma. It was good to see you, and we'll see you again soon!