We had a fabulous school year. Really, it was just fabulous. And part of why I'm forcing myself to sit down and REMEMBER and reflect upon all of the goodness and loveliness and truth that transpired in the 2019-2020 school year is because I feel like we stumbled across the finish line a bit bloodied, a little bruised and completely exhausted. Although that may have been true, it is not a true reflection of the entirety of the year. So here I am, reflecting on the good :).
What a RICH year of learning we had!! Academically, spiritually, and emotionally we were ALL stretched and have come out stronger. Truly, this is the result of the richness and abundance of the grace of God in each of our lives. He is so merciful and good!! A friend of mine said to me this past year, "I don't know if I have the patience to homeschool." And I was VERY quick to respond with, "Well, neither do I!!!!" Homeschool, like any other facet of life, requires a full leaning and dependence upon God to make me like Christ. I am not patient in and of myself. I do not have the character to respond with kindness and truth in ALL of the MANY moments they are needed throughout the day. I do not even have the physical stamina many days to teach all day, keep the house in order and make sure everyone is fed and watered. But thanks be to God, when I am weak, He is strong. Truly. He has sustained us. And so with that disclaimer…here is a snapshot of our school year.
We studied the entirety of the Middle Ages and the kids learned 31 short songs that tell the story of the Middle Ages from beginning to end. We studied human anatomy. They made a million connections throughout the year between their own bodies and all they were learning. They each learned to write in cursive. They excelled in their math studies. They memorized 6 poems, 3 separate passages of scripture (10 verses each), 3 hymns and several different prayers. They became incredible artists, both with watercolor and pencil. They can identify (and draw and paint) 30 different birds, flowers and trees. We immersed ourselves in several of Shakespeare's comedies and acted them out. We were neck deep in rich, beautiful, God-honoring literature. PEOPLE, these kiddos read 253 books JUST for school. Two-hundred fifty three. (Thanks be to the library!!!!) I did not dare to keep track of the dozens upon dozens of Boxcar Children, Nancy Drew, Hardy Boys and myriad other books the kids read just for fun, but we did work together to write down each one they read that fell strictly in the "school" category…anything in the nature, history, science, math, composer, artist or literature arena. Oh, and Christmas. We had "Christmas School" which was awesome. The books composed of picture books and chapter books and anthologies. They were an essential component to their learning this year and brought such beauty and richness to every person, place, or thing we studied. The kids were introduced to the vikings and King Arthur and King Richard and Robin Hood and Joan of Arc. (Side note: because of Covid, we weren't able to get our term 3 additional chapter and picture books from the library until May. So we had studied the Black death and the 100 Years War and Joan of Arc back in March, but they didn't get to read the additional books for a couple months. So one day in May Selah was reading a book about Joan of Arc and she looked up with huge eyes and a gaping mouth and said slowly and carefully with shock, "Wait, Joan of Arc is a….GIRL?!!!" LOL, apparently she missed that minor detail when I was teaching that lesson!!) All that to say, it was such a rich and FUN year of learning. Literature-based learning is such a fantastic fit for our family.
So it was a full and wonderful year, but April and May were very, very, VERY challenging. Not because of Covid. Because of a battle with appendicitis for Elliott and some health issues for me it just made for a TOUGH last two months of school. In fact, because Elliott wasn't feeling fantastic school dragged on until…the very end of July. But, he did it. We did it. God did it :). Elliott did take several weeks off for the most part but finally picked up his last assignment in July and got her done!
Well how was that for a long-winded start?
Last year we had a snow day on the last day of school, and this year was a Zoom day, like the rest of the world. Maybe one of these years we might actually have a REAL last day with our co-op friends… So now, for the pictures…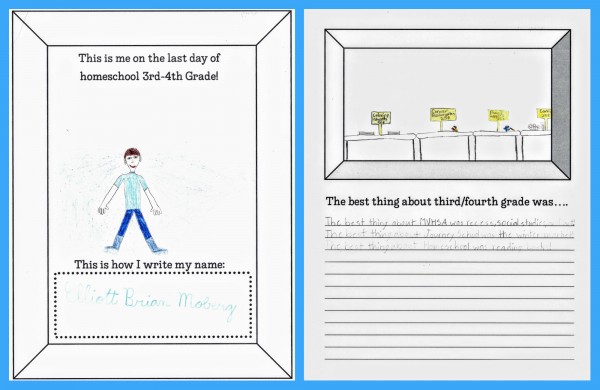 I set out to make the kids certificates like I did last year  and the program I use kept shutting down on me. After about 10 tries, I took the hint and gave up. But I did reflect upon the aspect of Elliott's character that I wanted to acknowledge. He is learning how to overcome and be victorious in the Lord and trust that his way is not better than the Lord's. (Whew. Talk about character building. I'm still learning that EVERY.SINGLE.DAY.) Elliott is extremely detail-oriented, so much so that one tiny detail (that isn't as perfect as he wants it) can derail his entire day. This year was all about trying to gently but firmly help him overcome this tendency and it was HARD. The war isn't over, but he's won several battles and I'm grateful for God's mercies to uncover this now in his life. There were several verses that we have up on little reminder cards for him, but the one that most marks his year is, "But one thing I do: Forgetting what is behind and straining toward what is ahead, I press on toward the goal to win the prize for which God has called me heavenward in Christ Jesus." (Phil 3:13b-14) SOOO thankful for God's grace every single day to help Elliott press on rather than give up. And to help me press on and not give up :).
The kids took a basic art introduction class this year at their co-op and their very first and last assignment was to draw a self-portrait. Of course, the first one was without any instruction and they had about 30 minutes to look in a mirror and draw what they saw. Then they took several weeks of art classes at their co-op. However, because we were home the last few months, the challenging assignment of helping them learn how to draw and shade various aspects of the face and then draw a final self-portrait fell on yours truly. This would never have been an assignment I would have chosen to walk my 7 and 9 year old through, but alas, we survived. And the kids really did learn a lot about drawing and they are SO proud of their final products. And I have a lot more gray hair. Which is fine, because I heard gray hair is "in," right?? Right???
Here is his first day self-portrait and his final self-portrait drawing (yes, the very last assignment that he finally finished this summer.)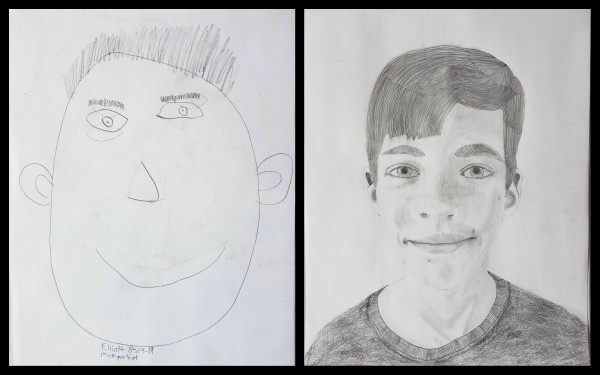 Pretty awesome, eh? We snapped a photo (thankful for the tip of a closed mouth so we didn't have to tackle teeth!), printed out the photo and each kid drew a grid with one inch squares on it. Then they drew the same grid on their own paper. Then they were able to just fill in what they saw in each little box. They erased the gridlines and then tackled shading and details bit by bit. 


I see so much "Mauss" in Elliott and his drawing, to me, highlights the Mauss in him even more!!
And now, onto our big girl…she had a wonderful year of learning. She brings so much laughter into our home. I am truly amazed that she hung in there with all of our lessons as a 6-7 year old. Sometimes it's hard to tell the kids apart because their faces are almost always hidden behind a book, but the way you know it's Selah is because she's usually upside-down. And laughing. 🙂 For her, the biggest area of growth is to SLOW DOWN and take her time and pay attention to the details that Elliott so adores. They are quite the pair…for Elliott, I would have to set a time limit of 30 minutes for his assignments and for Selah I would have to encourage her to take the full 30 minutes to finish an assignment!! But she did an excellent job learning and completing her assignments this year. I worked hard to teach her to work on turning in quality work. She has come a long way in learning that the world itself was not coming to an end when I asked her to go back and re-do or add details to an assignment. 🙂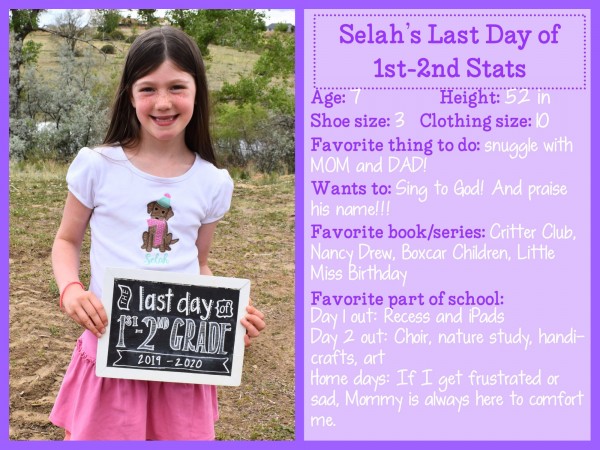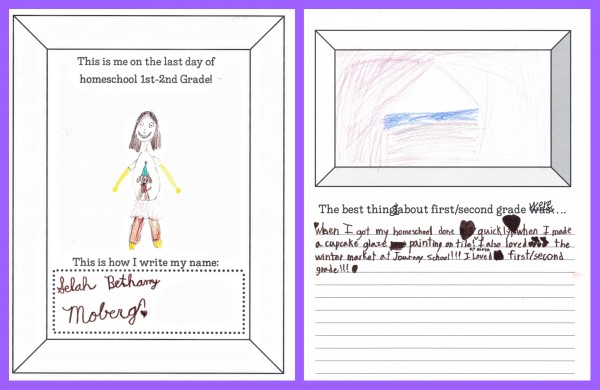 I love her little last day drawing. Look at her shirt! She took her time and drew all of those details!! And below is her first and last self-portrait! Oh my, I know her final portrait is just stunning but it's her first day drawing that just tickles my heart to no end!!!! Look at all the details she found!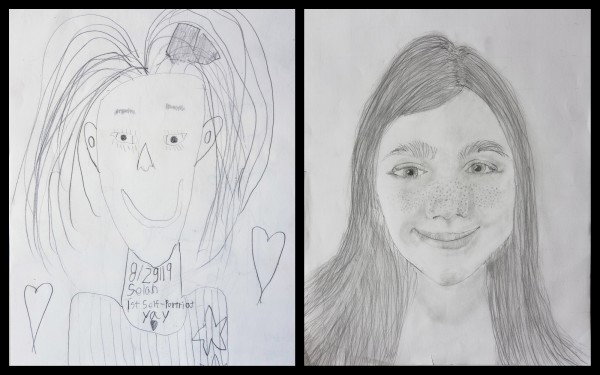 And now for the compare and contrast…drum roll, please!!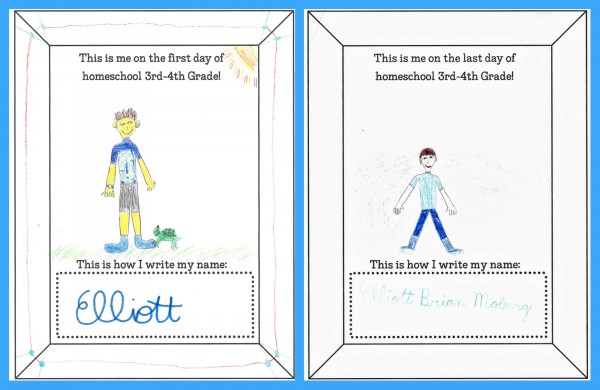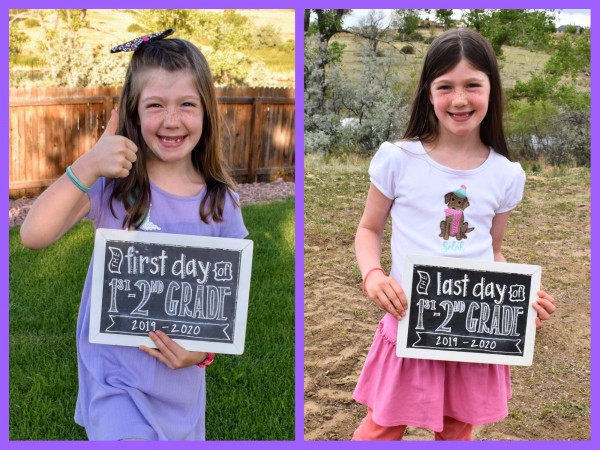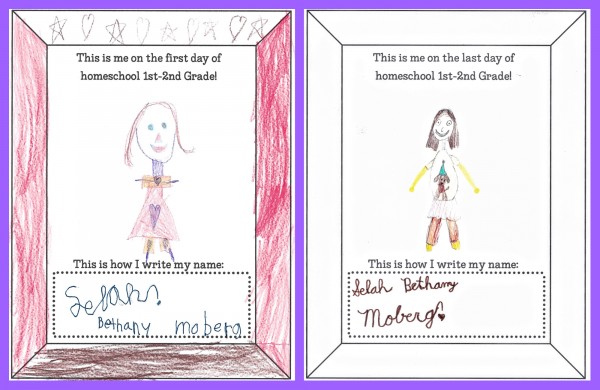 So…they sure grew, didn't they?? Physically, emotionally, academically, spiritually. And the REAL question, and the question that I've been challenged with all year long, is…"How do you really measure growth?" Academically, is it REALLY done through standardized tests and weekly spelling tests? Can you really capture and record the full essence of learning through little bubbles that you fill in? This year we changed everything. And although the kids still have to take regular testing for the state, I did not use these types of tests to measure their learning. Instead, we had three sets of "exams" where they got to report and share all they had learned in the previous terms. They committed facts to memory instead of cramming them in for a test. We played giant memory games with all of the birds, flowers and trees we had studied. We played a version of "Catch Phrase" that I made up with all of the people from the Middle Ages we had studied in history. I handed them a picture and some notes of a Colorado flower and let them sketch, paint and jot notes of the flower all by themselves. They presented their songs and memory work to their grandparents. They read one of their favorite books out loud to their grandparents. They illustrated the poems they memorized and shared their copywork,  history and science narrations. I was absolutely tickled when, as a family, we were listening to The Voyage of the Dawn Treader and got to the part where it says, "And on she went for about thirty pages which, if she could have remembered them, would have taught her…how to give a man an ass's head (as they did to poor Bottom)" and Elliott shouted out, "Mom!! It's from Shakespeare!! Bottom!!!" It was a treat when one night at the dinner table Grandpa mentioned something about the Magna Carta and I asked the kids if they remembered what it was. Selah recalled the history song she had memorized about it weeks earlier and was able to tell what it was and how and why it came to be. Just recently, Grandpa made a poetry joke about being a "long fellow" and I asked the kids if they understood his joke. Elliott blurted out, "Henry Wadsworth Longfellow!" and then recited the poem they had memorized several months prior written by him. Then there was the time towards the beginning of the year that we were studying a bird who has "maximus" in its scientific name. I could see the gears turning in Elliott's head as he said thoughtfully, "Maximus…maximus…I know that name. What's the bird whose scientific name is gluteus maximus again?" So close, yet so far! 🙂 But truly…real learning, real joy in learning, real wonder and delight in learning, real connections to the real world learning took place this year. I am so grateful.
But really, most importantly, we all grew in our faith and our character and our love of God and hopefully the kids grew in their love of each other. Those are increments of growth that can't be measured traditionally. I see buds appearing in so many ways but it will take years, if not a lifetime, to see the long-term fruit. So very thankful for another year to sow seeds in my children and water them diligently. So thankful for another year to trust the Lord to bear fruit in my children.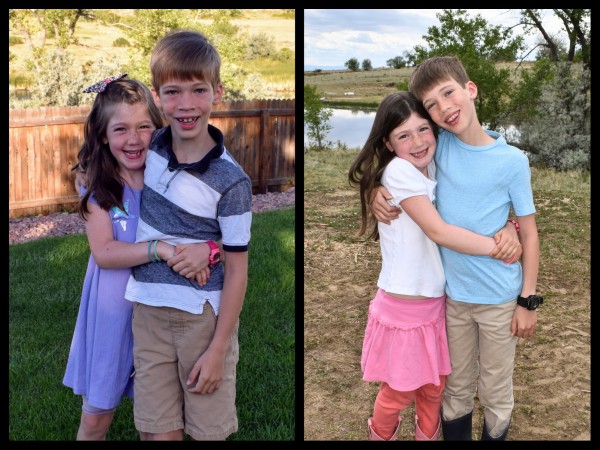 And though I am still bursting with so much more I could say, I will simply now say, "THE END!!!"