Our big man TURNED SIX!!!
He crossed two items off his bucket list before leaving the "5s"…
1. Getting stitches–OUCH!
and 2. Learning to ride his bike without training wheels! Yahoo!!
If you've been following Elliott's birthdays the last couple of years, you will know that ever since he was turning four, he has had his parties planned out for the next several years. This year, it was "Wood Crafts." The way to this child's heart is truly through wood crafts.
We've frequented The Home Depot's free first-Saturday-of-the-month quite often as the kids love to build and paint. So when I found out they ALSO do *free* birthday parties, I tucked the idea in the back of my party brain for "the Wood Craft birthday year."
Elliott and I sat down together in February and planned his party. Oh my, he is a boy after my own heart! I don't know anyone else on the planet as thrilled as I am to surf through a hundred fonts and pick the best ones for our task, haha! But he sat on my lap and we surfed until he gasped with delight when he found the perfect one :). I love him :). We planned out the snacks and the treats and designed the invitations. He had a construction birthday when he turned 3, so I re-used the banners and signs! I just had to change some "3s" to "6s" and we were set!! WIN.
We arrived, set out the food, hung up our banners and waited for our guests to come!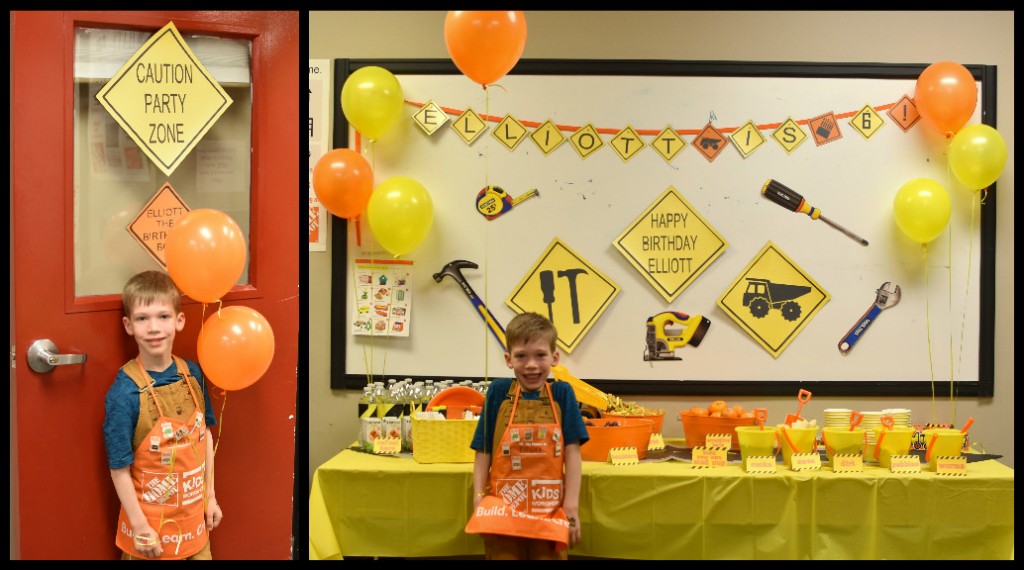 There are SO many fun food ideas for construction parties! Elliott and I had a blast planning these out and making the signs for them! We had a refueling station, boulders, nuts + bolts, wrecking balls, and 2x4s (which Brian not-so-subtly pointed out that they are actually 1x1s…oh well!)!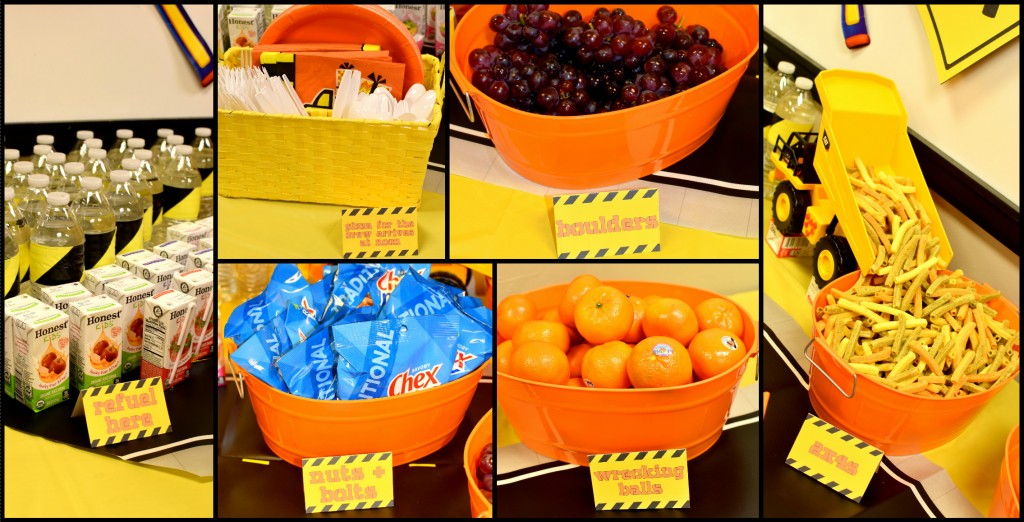 The sweetest lady ran the birthday party. She was great with the kids. Before everyone arrived, she pulled out the ORIGINAL Home Depot Kids Apron (it is actually made of cloth!) with every pin of every project they've done! The kids were fascinated as they were sporting their aprons with their completed project pins proudly displayed.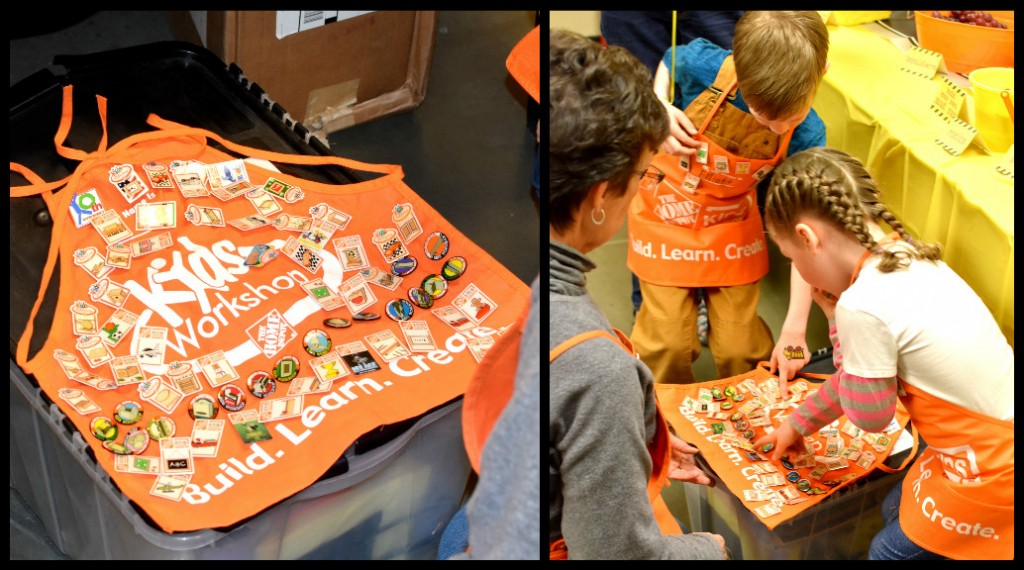 Party guests arrived and got to sign a hard hat for Elliott! How cool!! Nice touch, Home Depot! 😉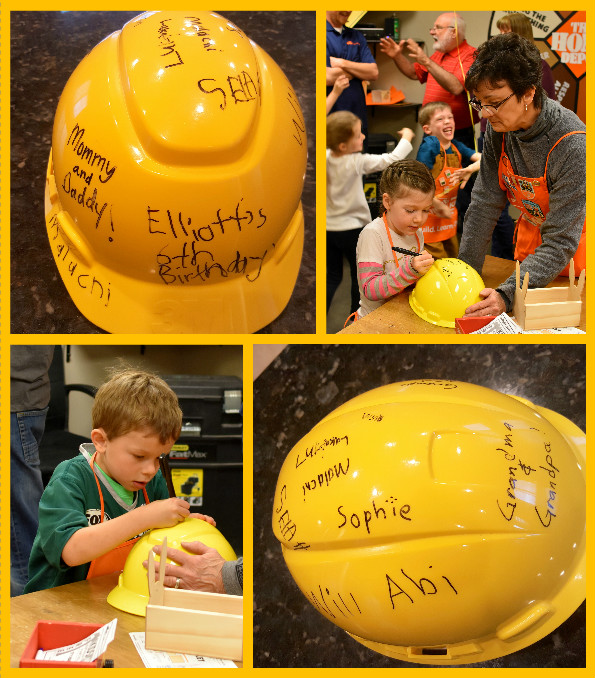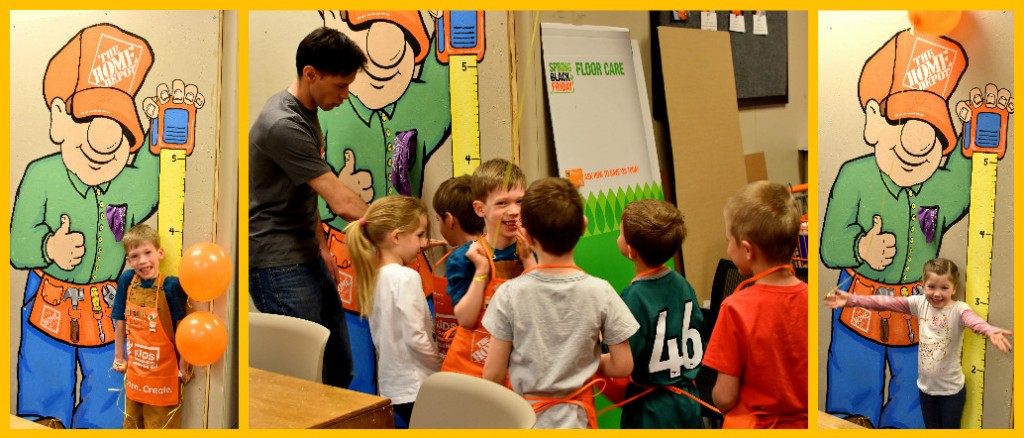 The week before the party we talked to the coordinator and got to choose the wood craft we would be working on. He selected the helicopter. Karen from The Home Depot led the kids through each step.
First step: sanding
Second step: put on goggles, assemble and hammer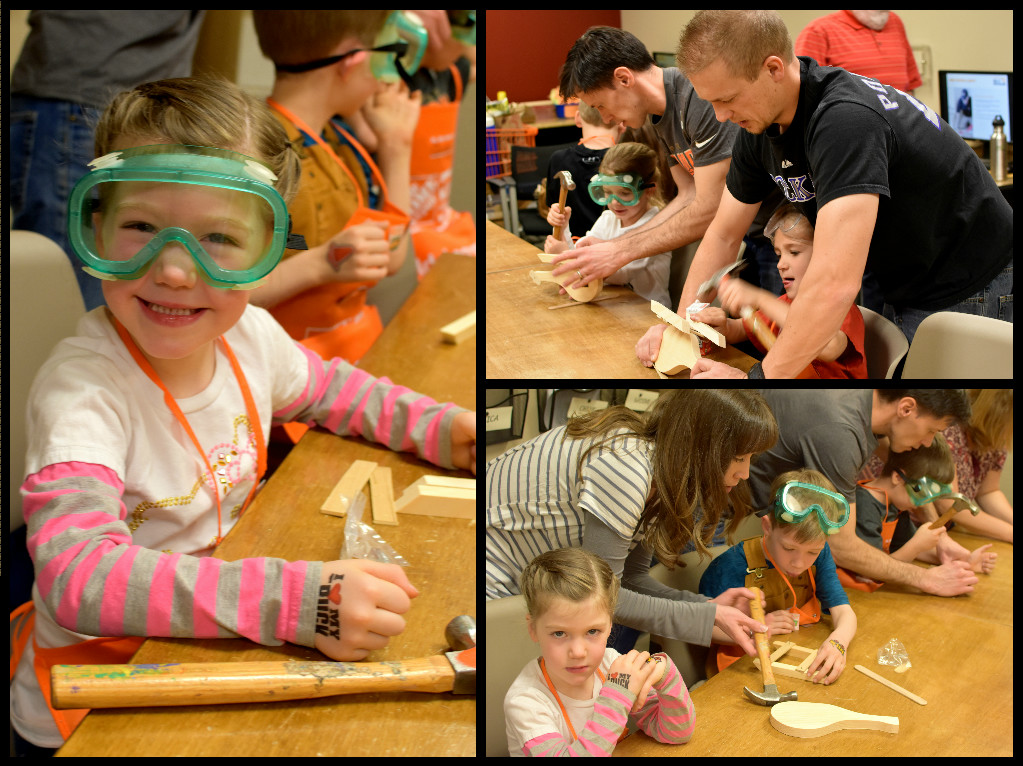 And, done!
Look at these cute kids and their helicopters!! What a blast!!!!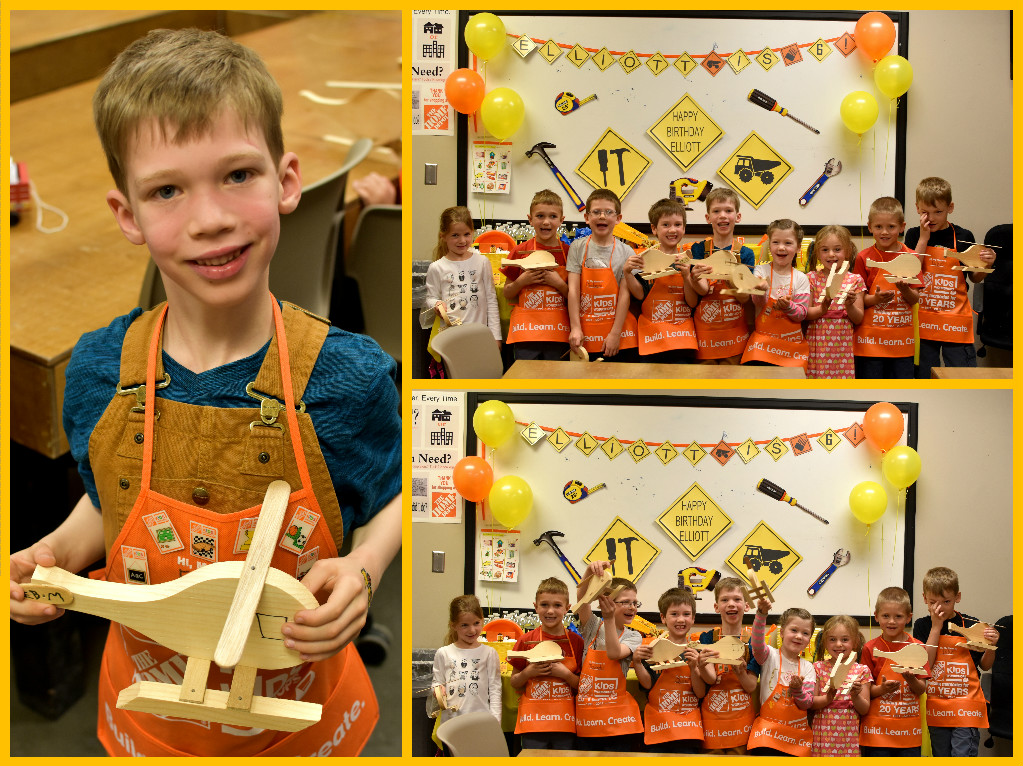 He just couldn't wait to open presents, so we did that next :).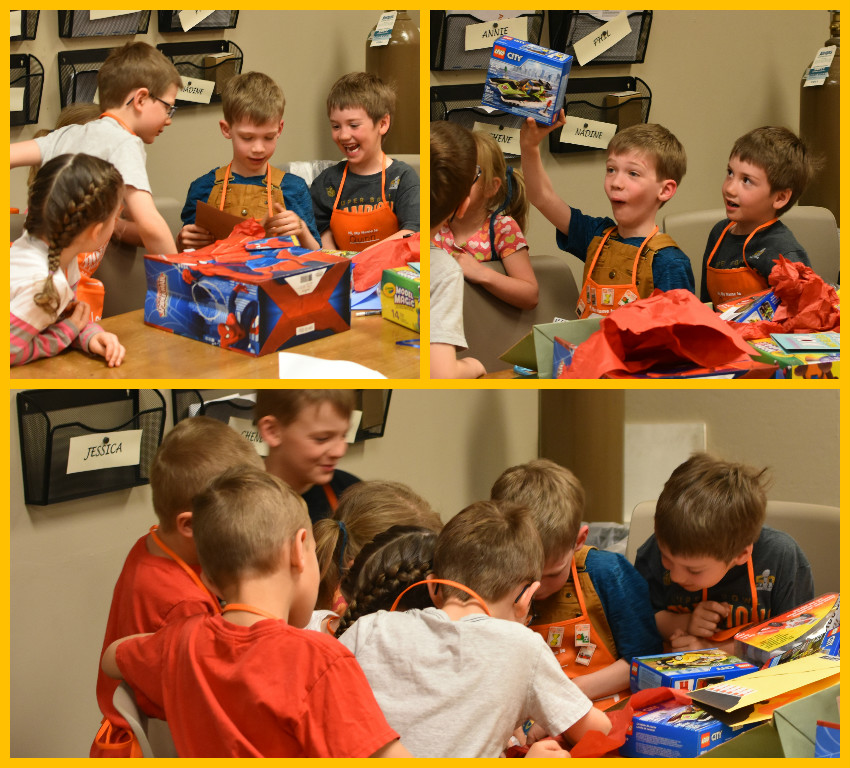 When Elliott and I were planning out the party, he jumped at the idea of doing some sort of "build-your-own" dessert. He opted for Dirt Cups which, ironically enough, I'm not sure he's ever eaten before?? I explained what they were and he was super thrilled at the idea. So was this baker-challenged Mama!! They were SO easy and a huge hit with the kids. I gathered all the kids when it was dessert time and excitedly explained to them that Elliott really wanted mud for his birthday treat, so we dug some up from our back yard for all the kids to eat! It was a CLASSIC kid reaction: "EEEEWWWWWWW!!!!!" they all screeched in unison. I went on to show them the dirt, the rocks, the 2x4s, the pebbles and the worms they could put on their mud cups! They laughed and squealed and "eewwweed" some more…until it was time to eat! Then all I heard was, "Mmmm, this is delicious!!" So cute. I love kids!!!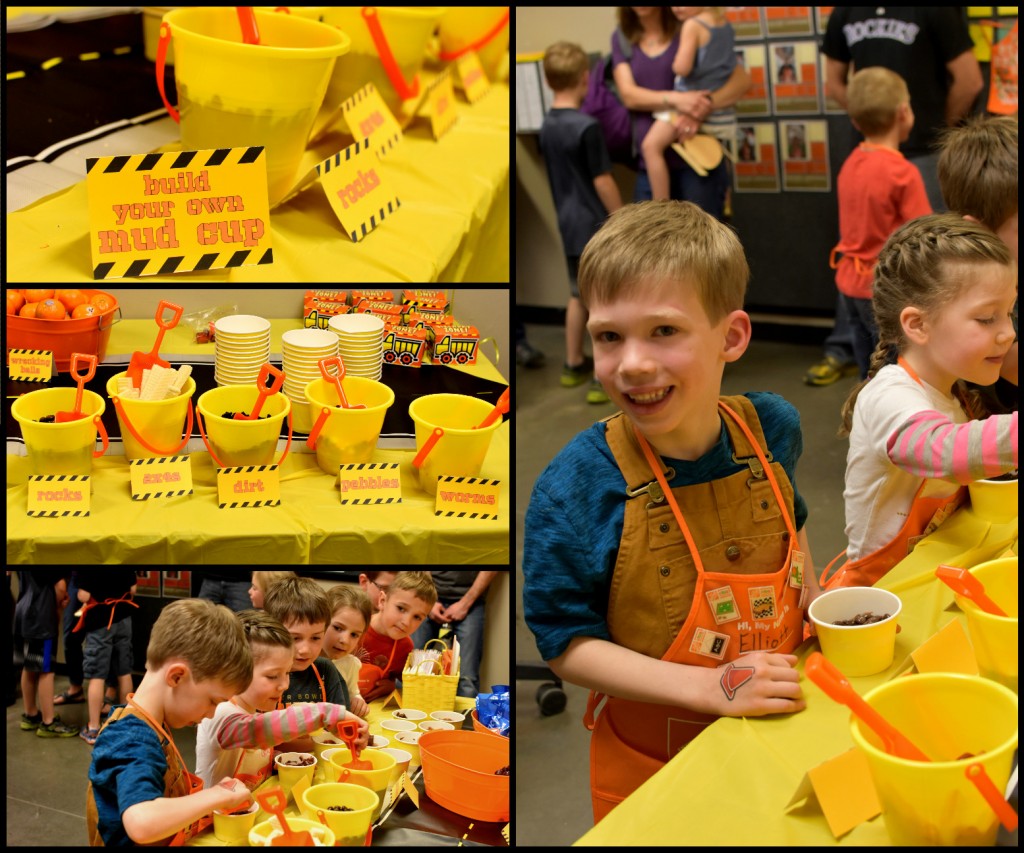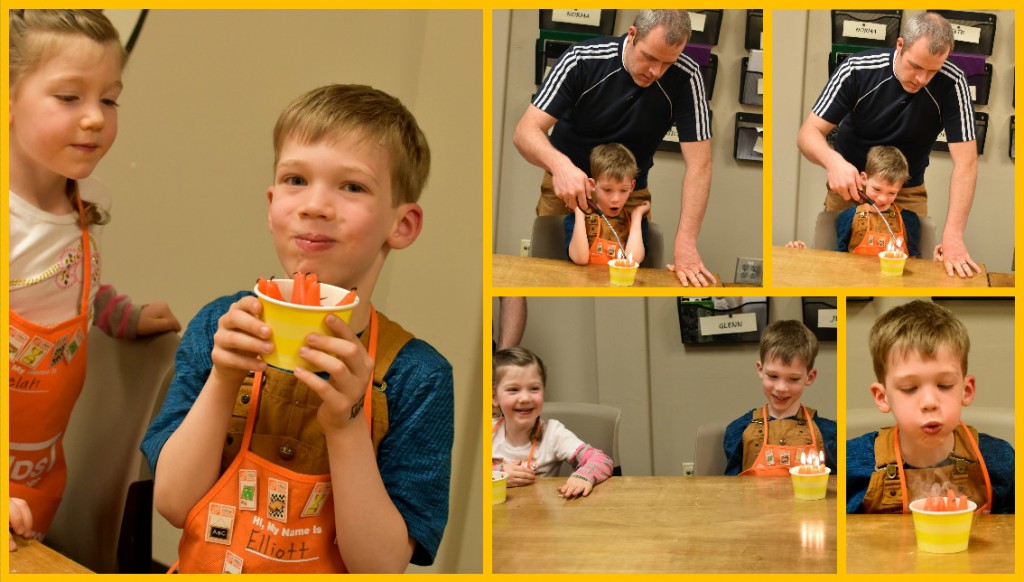 The kids each got to take home their helicopters, a Home Depot apron, and these simple favor boxes filled with a couple tattoos and sticker and a construction vehicle eraser.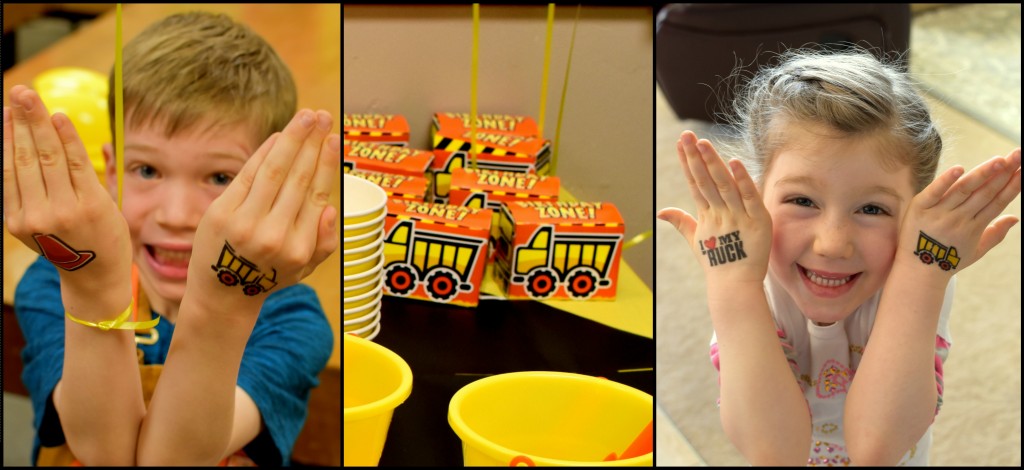 Elliott got a few more celebrations as well…dinner at Red Robin one night, birthday treats for his class another day, and of course–his actual birth day celebrations!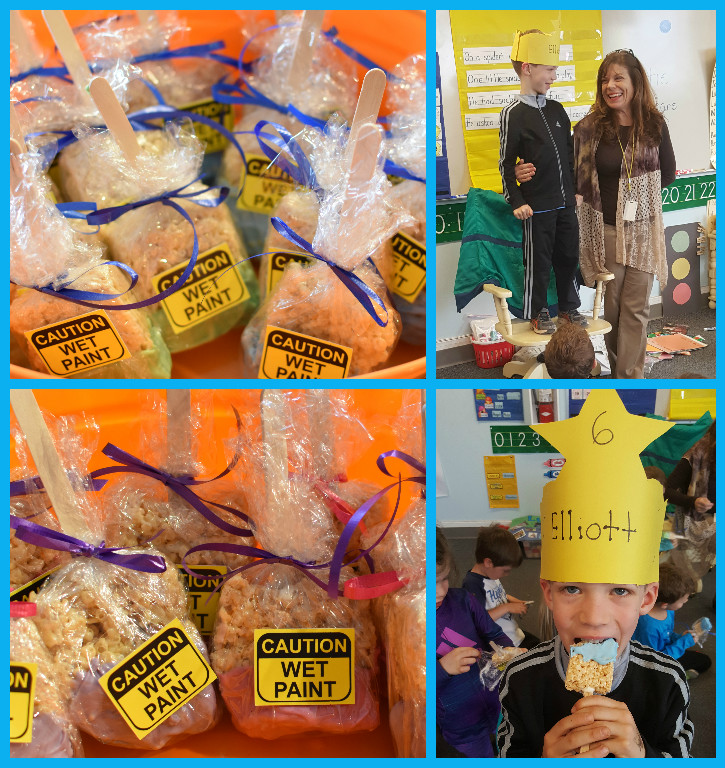 Okay this moment completely cracked me up!! He has been eagerly awaiting the moment the Red Robin peeps would sing to him for his birthday…and then he got all shy on us! And pretended like he didn't even notice they were singing to him! I guess it was super important that he re-fold his menu in THAT particular moment, hahahah!! I love him! 🙂