I have always been that person who has wanted to wait until it was "safe" to tell people about our pregnancies. I will tell the very, very closest, those safest to my heart right away, but I will wait to tell the rest. I have called this "my safety zone." I've never been a big fan of grieving while "the masses" looked on and this was my way of making sure I didn't have to. We've always waited until we've seen an ultra sound, made sure that baby was in the right place, and made sure there was a heart beating strongly. I know, according to the books, you're not out of the "danger" window until around 12-13 weeks, but since I get so sick during my pregnancies–and everyone has always told me that as long as you are sick, you KNOW the baby is okay–I have figured we were "safe" once we saw that heartbeat and as long as I was still throwing up. As much as I don't enjoy vomiting every day, it's been a comfort to me with each of my pregnancies. With each heave, I take comfort in the "fact" that my baby is growing well.
One of my initial thoughts after we lost the baby was, "Oh, no…my plan of waiting until it was "safe" didn't work! We've told EVERYONE…Oooooohhhhh noooooooo….." Total and absolute dread followed at the thought of having to tell the world the terrible news. Shame for celebrating our baby consumed me. And I immediately began changing my "safety zone" in my head: "Next time, I'll wait until 13 weeks! Oh wait, I have friends who have lost babies even after 13 weeks. That's still not safe. Okay, I'll wait until 20 weeks! That will keep me safe! Oh, wait….I have very good friends who have lost babies after 20 weeks. That WON'T keep me safe. I've got it! I'll wait until my due date to tell the world!! Oh…wait…I know that even women who carry babies full term give birth to stillborn babies…"
I played out various scenarios in my head–like, waiting until my next child's first birthday to share the news with the world. But I knew, in reality, that even THEN I wouldn't be "safe."
I know I have only one choice that is "safe." And I know exactly what that choice is…so, daily, I drop my tense shoulders…I let down my walls, I lift up my head, and I let the Lord IN…I set my terrified eyes on HIM. I lock my weeping heart on HIM. Because I know…that in Him, and Him alone, will I find safety…will I find shelter…will I find refuge…in the shadow of His wings, I am safe.
The Lord has had me on this journey of learning what it means to TRULY rely on Him, and Him alone, for years, but he has had His thumb on this issue very strongly for the last 2 1/2 or so. And I will be honest, I thought I was mostly done. I mean, come on, at least at 90% or so… But my tendency to want to find safety in statistics, in the past, in others' stories, in science, in ANYTHING other than the Lord has reared its fierce head boldly since we lost our baby.
When tragedy occurs, we all just want to be safe. We all just want OUT of it. We all just want to have control over SOMETHING that will secure in our hearts and minds that we won't ever meet tragedy again. I have wanted, desperately, to find something seemingly-safe to cling to. I have wanted to cling to the statistics to assure me that this will never happen again. I have wanted to cling to the fact that I have two of the most incredible children on the planet to assure me that, of course, I will get pregnant again and carry another baby full term. I have wanted to cling to the stories of my friends, who have lost babies and gone on to have more. But even as I have begun to put my hands on each of those "securities," I knew instantly that my fingers would never be able to take a grip on them. They are too slippery, too unsubstantial, too meaningless. And now, I can't even hope in my nausea. I won't even "know" that my baby is okay because I am throwing up. Because that's not true. Those statistics, those stories, my children…they are all great encouragements to me; they do give me hope to some degree. But they are not MY HOPE. They cannot be the places my eyes are set.
God holds life in His hands. 
That's it. That's the end of the story. I can focus on my health, I can time whatever I want to, but GOD HOLDS LIFE IN HIS HANDS. 
I can read, I can plan, I can study, I can take the perfect prenatal vitamins, but it is my GOD who holds my babies' lives in His hands.
No king is saved by the multitude of an army; A mighty man is not delivered by great strength. A horse is a vain hope for safety; Neither shall it deliver any by its great strength. Behold, the eye of the LORD is on those who fear Him, On those who hope in His mercy, To deliver their soul from death, And to keep them alive in famine. Our soul waits for the LORD; He is our help and our shield. For our heart shall rejoice in Him, Because we have trusted in His holy name. Let Your mercy, O LORD, be upon us, Just as we hope in You. [Psa 33:14-22 NKJV]
I hope in THE LORD…not the "safety zone" of pregnancies, not the nausea, not the statistics, not the past. My hope, my trust, is in the LORD.
And so, my perspective has changed entirely. You know, I will never get to have a baby shower to celebrate the life of my third baby. I will never get to plan his or hers first, second, or third birthday party. I had 2 months, once we found out we were pregnant, to celebrate my baby's life. And you know what? I DID. WE did.
Oh, how we REJOICED over this little one in our family!! And I have no regrets. It was NOT a waste that we celebrated, despite what fear wants to tell me! I am so grateful that we did. I am so grateful for our friends and family who wholeheartedly celebrated with us!! I am so grateful that we took pictures, made a (virtual) announcement, and didn't withhold our great news until it was "safe." I am so thankful we didn't miss out on our short window to celebrate the life of our littlest love. We made A LIFE, and we celebrated that life wholeheartedly. THANK GOD.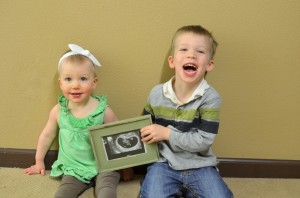 I was a bit taken aback, honestly, by the sympathy that came from "the masses" towards us. I didn't think I wanted it or needed it, but I was so blessed by the way MANY came around us when they found out we had lost our baby. If you are reading this now, you are probably one of the people who did that, and I want to tell you how grateful I am for your love and your care. We live in hard times, where the lives of babies inside wombs are not valued as they should be, and yet you valued our baby's life and then grieved with us when that life was gone. Thank you.
It's just that I LOVE to celebrate, and I can't believe I almost let that part of me be stolen. I'm sure I was created to celebrate. Jesus loved to celebrate too, you know! He loved weddings, right??!! 🙂 I love throwing showers, I love finding excuses to make a fun gift for someone, I LOVE IT ALL. And it's because I love LIFE. I love people, and I love life. It brings ME to life when I get to celebrate others. Weddings are MMYYYY FAAAAVORITE….not because I love details and coordinating colors and themes and parties in and of themselves, but because I love TO TRULY CELEBRATE the fact that two people have chosen to lay their lives down for each other and become one before God and their closest friends!! That is a day to be CELEBRATED!! BIG TIME!!! Does celebration always have to look like a well-planned out party or gift? Oh, of course not. But HOW FUN to go ALL OUT and NOT WITHHOLD A THING to celebrate someone or something like CRAZY. I LOVE to celebrate LIFE.
I never want to quit celebrating. I never, ever want to quit celebrating LIFE. I never want to celebrate only when it's "safe." I want to be wholehearted and, like the woman many of us strive to be like, I so desperately want to "laugh at the days to come" and not fear them (Proverbs 31). It feels ridiculously scary, still, to think about (whenever that day comes) celebrating our next pregnancy boldly. So, so scary. And I have no expectations on us for when the "right time" will be to share. But, I do know this: without faith it is impossible to please Him, and my safety lies in Him…FAITH in HIM. And I want that truth to always drive our celebration, whether we share at 4, 10, 13, or 20 weeks next time.
Some trust in chariots, and some in horses; But we will remember the name of the LORD our God. They have bowed down and fallen; But we have risen and stand upright. Save, LORD! May the King answer us when we call. [Psa 20:1-9 NKJV]
WE HOPE, with all our hearts, that we will have another baby one day. But we will not hope in the fact that the statistics say we should or shouldn't…If God grants us the blessing of another child to care for and raise here on earth, then it is solely by His mercy. Some trust in statistics; But we will remember the name of the LORD our God. We hope in the LORD. And though it feels so scary, I am promised that when I trust in His name, I will NOT be overcome by fear, but instead I will rise and stand upright. Praise be to God!!
Oh, Lord. Give me the strength, the hope, the faith to celebrate LIFE, even when it feels so scary. Give me the faith to trust solely in You, the One who holds life in His hands. Amen.