Elliott's very first real word was, "more." He had been saying "Mama" and "Dada," but "more" was the first word that he used in context and consistently. And other than, "Uh-oh," it is still his favorite word. When he's especially passionate, he doesn't just say, "more," he yells, "More DA MORE!!!"
He uses it all the time, in every scenario you can possibly think of.
I'll never forget one of the first times we were at Sea World watching the dog show (dogs are HIS FAVORITE). The "Who let them dawgs out" song blasted loudly as dogs of every type sprinted out from behind stage and into view, running to the beat of the music. I looked at Elliott and said with expectation: "Big guy!! Do you see all the dogs?!?! Aren't they so cool?!!!"
"MORE!" he insisted, bluntly and impatiently.
This is–literally–how ALL of our conversations go:
"Elliott, did you have fun playing with your friend?"
"More!"
"Elliott, did you like going to the zoo?"
"More!"
"Elliott, was that a yummy special treat that you had?"
"More!"
Elliott, you did so great throwing that ball!
"MORE!!"
"Elliott, are you grateful that we got to take a special airplane ride??!!"
"More DA MORE!"
He is simply not able to truly enjoy or appreciate the present because he's always looking to the future, and he wants to make it very clear that we know that he wants more of that thing that he loves.
And my heart breaks. Doesn't he know that I long to give him "MORE"? Doesn't he know that it fills my heart with utmost joy to lavish him with good things? Doesn't he know that I want to spend the rest of my life giving him good gifts, whether the form of those gifts looks like special play dates, balls, a chance to serve, or every-once-in-a-while–sugar?! Doesn't he know that his daddy has to literally hold me back from buying every thing I see in Target that I know will bless him???
But mostly, the state of his heart breaks mine because he reminds me so much of me, and my heart towards my Father.
Sometimes when I am really, really, really grateful for something, a sneaky lie creeps its way into my mind and quickly tries to convince me that that something will be taken away. So as a result, I cannot fully celebrate gifts or the ones whom I love because of this little lie that they will probably be snatched from my hands. It is a rotten trick, but nonetheless it has been trying to persuade me to grab hold of its false comfort every since I can remember. "If you don't embrace it too much, it won't be as hard on your heart when it's taken away…"
I remember being a little girl and not being able to fall asleep some nights because I was so afraid that my parents were going to die. One specific night when I was about 4 years old, I cried and cried one night in bed until I finally ran to my mom for solace. And I don't remember anything that she said, but I clearly remember what she did. She scooped me up, sat me on her lap, held me close, and rocked me. What brought peace? Not promises of what the future would hold, but the comfort and security of my mama's love.
Fear robs. It robs from me. It robs from us. My God is not a God whom I should look upon with fear, because there is, simply, "no fear in love," (1 John 4:18) and He is all-consuming Love. My God is not a God who tells me that I should live in fear, because He has "not given us a spirit of fearfulness" (2 Timothy 1:7).
It's difficult to put into words how grateful I am for all that the Lord has given me in this simple life I lead. It is not glamorous or easy, but it is perfect. Perfect because of the ones I get to do this crazy life with.  He's given me a husband who adores me and lays his life down for me. Children who bring me more delight than I ever could have imagined possible. Friends who love us. Family who takes care of us.  Yet as I approached my 31st birthday, and I examined the state of my heart, all I could honestly find was, "More DA MORE!!!" I don't want more things, I don't want more money. I simply want more time with the ones that I love. More days with my daughter, more days with my son, more days with my very best friend who has added such a tremendous amount of joy in the last few years that he has loved me. I want more giggles with my Selah and more tickles with my Elliott. I want more games of "Get you!" and more rides on the swings. I want more soccer and I want more tea parties.
And, of course, all of that is GOOD! It's good for me to want more time with my family instead of less! It is good for me to miss my husband like CUH-RAZY when he hasn't even been away from me for 24 hours. But it's not good when there's fear robbing from my gratitude. It's not good when I am so concerned about what tomorrow may or may not bring that I can't fully, fully value and enjoy today. 
Colossians 3:15 says, "Let the peace of God rule in your hearts…and be thankful." Don't you love how the "peace of God" precedes thankfulness? I do. Not peace from financial security. Not peace from a known future. Not peace from the guarantee of prosperity. No, what brings peace? The comfort and security of my Father's love. I love that it is only because I am at peace with Him, at peace with His love for me, that I have the ability to be thankful.
Peace from His perfect love, which covers and fills me. The peace of God.
Because of THIS: "If you then, being evil, know how to give good gifts to your children, how much more will your Father who is in heaven give good things to those who ask Him!" (Matthew 7:11).
Ahhh, peace. HE longs to GIVE me more…more than I can fathom. Sometimes I think of Elliott and how little he really understands about the world. To him, Heaven would be a ball pit filled with every type of sports ball that there is. And while that does sound great, 🙂 he doesn't even know…oh, he has no idea of the incredible joys that will be made known to him as he grows…the incredible gifts just around the corner. He, like me, literally cannot fathom what MORE there is to come. And that's okay. I only desire for him to take great delight in the gifts and treasures of today, and simply trust that I long to give him more.
So this year, I desire MORE. More understanding of God's love for me. More revelation of how much he lavishes me in love. More trust that He desires to give me good gifts. More peace in my heart that allows me to be filled with real gratitude..
Real gratitude for DA MORE…
More play dates at the park with my son, throwing balls, climbing high and swinging hard.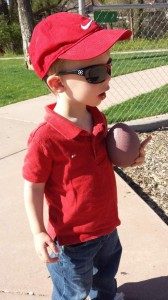 More special treats at a cute little coffee shop, reading books together in a new, fun place.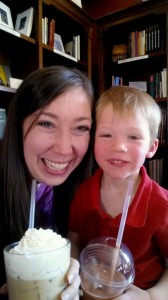 More HUMONGOUS, MEDAL-WORTHY tantrums thrown upon leaving said cute little coffee shop, if it means that I get to be the one to train and shape my son into becoming a godly, wise, filled-with-self-control man.
(No picture available. I'll leave the scene of me trying to get him into his car seat while screaming, crying, and flailing next to a busy road up to your imagination.) 🙂
More scraped up knees and bloody faces if it means we were playing a rousing and hilarious game of "who can get the ball first?"
More special birthday outfits of yoga pants and maternity t-shirts (not because I'm pregnant! Only to hide my post partum belly!) because my crying, wounded son's pee leaked completely through his diaper and onto my much-cuter, pre-blood and pee clothes while I was consoling him.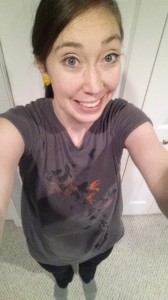 More snuggles and kisses from my baby girl, who was so excited for my birthday today that she woke up earlier than she has in 4 months so we could start celebrating during the 5am hour…
More ribbons and bows from my teething, fussy, adorable little blue-eyed beauty!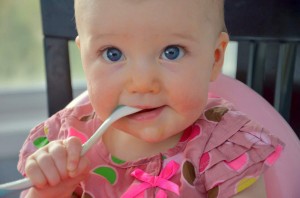 More laughter and love from this perfect face …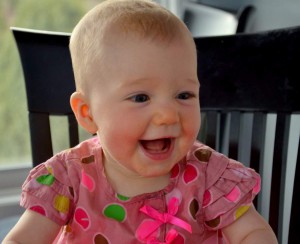 More fun treats that bring the perfect end to hilarious days…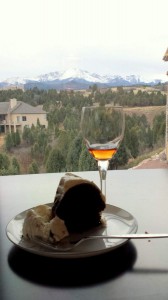 More, more, MORE of my handsome, strapping husband. More emails and text messages and phone calls from the love of my life, who has lavished me with celebration today, even from thousands of miles away.  Who lavishes me with celebration every day, loving me and exhorting me and encouraging me and spurring me on and fanning me into flame and filling me with truth.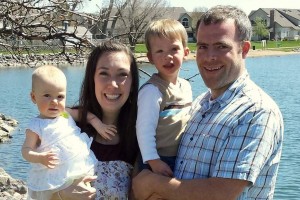 MORE. More DA MORE!! of days and days filled with the peace of my Everlasting God, which drives me to gratefully enjoy the many abundant and perfect gifts that He has lavished upon me.
Happy 31st birthday to me!! And may I have many MORE DA MORE!! 🙂