Selah B turned 3 months old on January 8th…though she's now closer to 5 months old (WHAT?!) I want to post her 3 and 4 month blogs. Because she is just.that.cute.
Height: 25 inches
Weight: 12 lbs, 12 oz
Ahh, month 3, and life with our Selah B only continues to get more wonderful.
This past month we moved into a different house, and Selah officially has her own bathroom! A wish that every girl dreams of… 🙂
Selah has been sleeping in a bassinet in our room, which I love. I love listening to her breathing and knowing she's just a couple feet away from me all night long. It was hard for me to move Elliott into his own room, and it was hard for me to make this leap with Selah, too. I know it's best for everyone (like when Brian's alarm clock goes off at 5 am, thus causing Selah to think that's her awake time, too!) but it feels like she's going off to college to my little beating mama's heart.
So, just past the 3 month mark, we decided to make the switch. Did I mention that this very own bathroom of hers also happens to be her bedroom…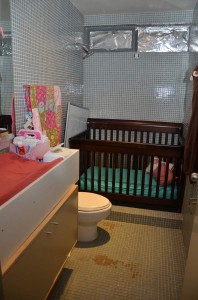 We moved into a little 2 bedroom condo. The second bedroom is too small to fit two cribs in it, so we decided to put Selah in the second bathroom! Her crib fits perfectly in the shower. And my incredible husband removed the faucet and built in a changing table above the sink. Her room couldn't be any more perfect :). (Her bedding and nursery apparel is still in the process of being made, so that's why her bathroom is still a little bare!)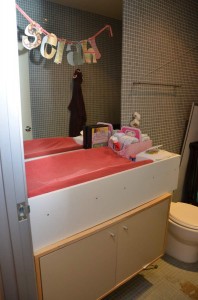 Selah has had a few sleeps all the way through the night, but is still generally waking up once to eat. She's lifting her shoulders high off the ground during tummy time, and has decided that the bumbo isn't her favorite thing in the entire world. She has cut her nursing time down to six minutes (sniff, sniff) and would much rather look around than eat. Her favorite things to look at this month? Besides the hanging animals on her play mat (which she's started to grab a hold of this month), she loves looking into the mirror and…most especially, looking at her big brother. She smiles so big when he is near!!
Oh! And she giggled for the first time on her 3 month birthday. I was changing her into jammies (which just happened to be from Auntie Erika) and she just let out the biggest giggle while smiling at me!! Being Selah's mom is the most incredible joy on the planet…
Well, without further delay, here she is: my giggling, smiling, beautiful 3 month old!