My sweet baby boy turned one (yes, 6 weeks ago, but that's beside the point), and we were so excited to celebrate him!! Although this post is quite late, I wanted to get it up anyway :).
Due to the fact that the majority of our resources–time, energy, and money–for Elliott's birthday were dedicated to his House Build, I committed to keeping the party itself SIMPLE. But that didn't mean we couldn't have some fun :).
We had Elliott's Birthday Banner up the whole week preceding his birthday.  Melisa and I designed and made this banner several months ago for Elliott out of the same material that my friend Amy made his quilt and wall hangings out of. We'll add a new photo each year!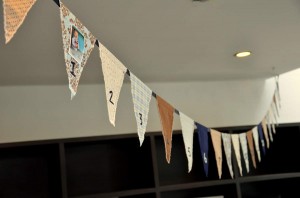 Let's get this party started!
We went with a construction theme (of course). And with a few sheets of yellow cardstock, a Sharpie, our printer, some balloons, and some Spanish "Caution" tape, we had our decor.
THE DECOR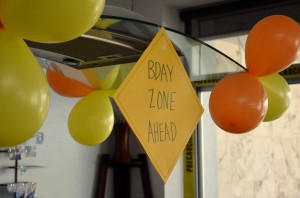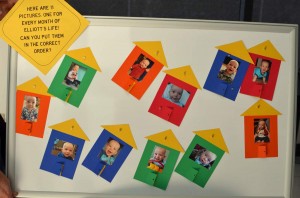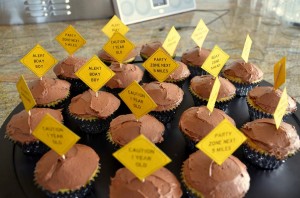 THE FIRST BITE OF BIRTHDAY CUPCAKE!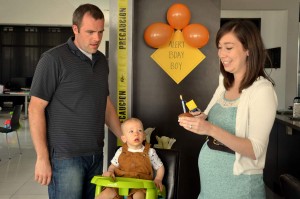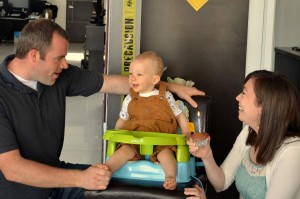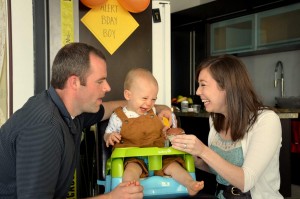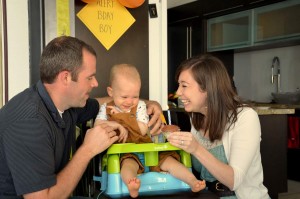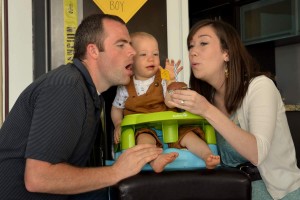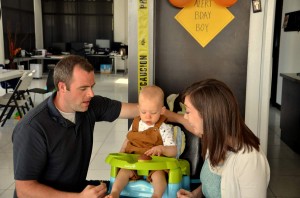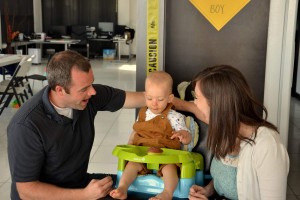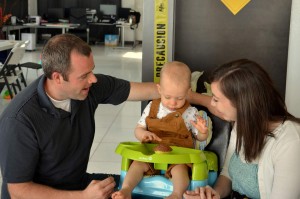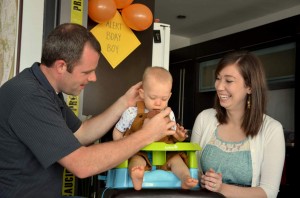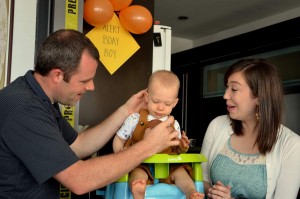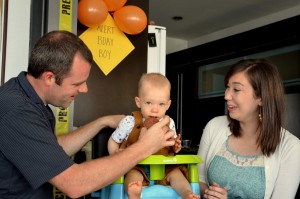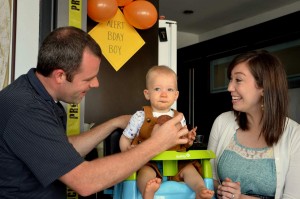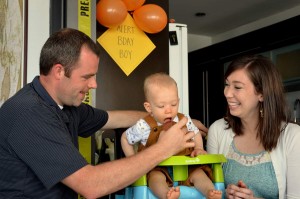 Now, when Elliott really likes something that we've given him to eat, he either does one of two things: he smiles so big and waves at us, or, he wants to kiss us over and over again. As you may or may not know, Elliott's kisses are VERY open-mouthed. So after about three bites, apparently he decided he liked it, and leaned in to give me kiss…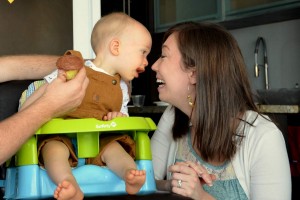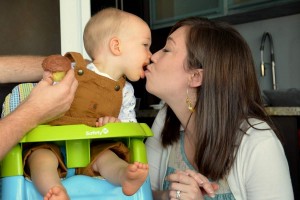 He kissed me two or three times in a row, and every time he did, all of the party guests (of course) went, "Awww…." I think he really liked that, so after every kiss, he broke out into joyous applause for himself. It was awesome.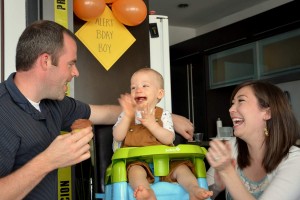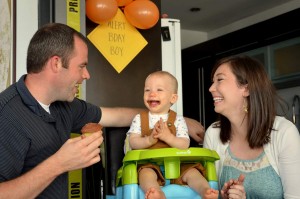 Brian and I tried to take advantage of his smoozing with the camera to sneak in a family pic. Little did we know that Elliott had very much moved on already.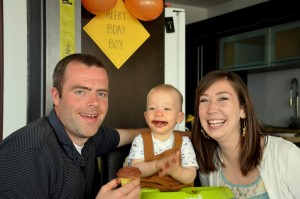 THE GUESTS!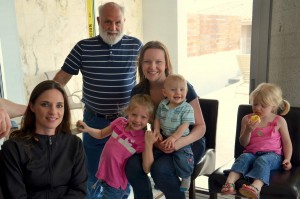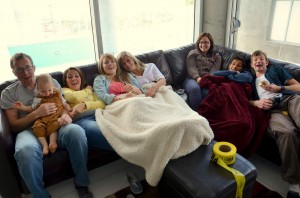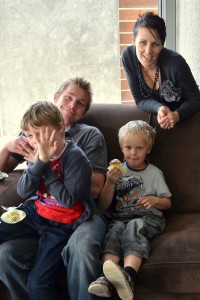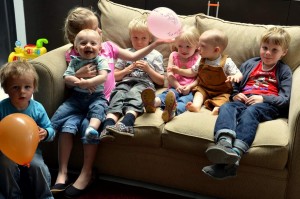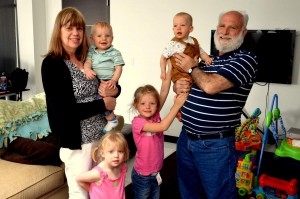 You know, it wasn't easy thinking about the fact that Elliott's first birthday would be far, far away from the people whom we love most dearly and from the people who love our sweet baby boy so much. But I am so grateful for how the Lord came through and made Elliott's birthday lacking nothing. Don't get me wrong–I missed my family tremendously and all of my dear friends spread across the globe. But Elliott's birthday was rich. Rich with friendship, with love, with giving to a family in need. We are so grateful that Brian's family could come down for the weekend, and that our DTS class adores Elliott and were all so excited to celebrate him. We are so grateful that Elliott has new friends here–Noah, Declan, Louie, Hunter and Parker–and most of them could make it to his party! We are grateful.
Happy 1st Birthday, Elliott Brian!!! What a joy it is to celebrate your life!!!