*You probably noticed, but our website is officially UNDER CONSTRUCTION! Woo-hoo! So pardon our mess as we rebuild it, but for now at least you can finally read our blog clearly!!*
Our big girl turned 10!
We celebrated by having a PARTY! PARTY! More specifically, a DOUBLE DIGITS PARTY PARTY! This was really fun. I feel like there is so much more you could do with this theme than we had time for!
This was a big year, and Selah made a big decision–to invite all of her closest church friends, rather than just one. What a treat!! What a joy!! So we started the PARTY PARTY around 5 pm on a Friday with pizza and salad. Yes, I know I'm the only one in the world who cares about making the food match the theme, but come on–that's awesome, right? Get it? piZZA and sAlAd!! Double Z and double A!
Next, she opened presents. She was so blessed!
We got her a gift that kicked off the DOUBLE DIGITS PARTY PARTY games: Pass the Pigs. You guys. Have you ever played Pass the Pigs? As I was trying to come up with games that had a "double" theme, this one popped into my head. Where has this game been the last decade of my life? I know we used to play it…I have a memory of playing it in our home in Tacoma…but I had completely forgotten about it! I couldn't remember much about it other than I remember laughing A LOT. So we got it for Selah with high expectations for the first official Double Digit game.
And oh my, how these kiddos roared with laughter over these two little piggies! I also forgot how many gambling tendencies come out when playing the game so…oops! Man, it is hilarious. Enjoy it vicariously through these pictures. Notice how it starts off quite calm as they're learning to play…and within just a few minutes, all calmness flies right out the window!
NEXT, we had deSSert: Double Dice, Double Scoop Sundaes. This was probably the highlight of the whole thing. Everyone got two scoops of ice cream and two spoons. I came up with 10 different toppings that corresponded with the numbers 2-12. #10 was a free choice, in honor of our 10 year old.
So, everyone took turns rolling the two dice. Then they got to put the topping of the number they rolled onto their ice cream! I think we went through three rounds and then I just let them all have free choice. That was a LOT of fun and a LOT of sugar! At least two asked me if they had to finish their ice cream, ha! #doublethedigitsdoublethesugar
Of course, then they had to eat their sundaes with two spoons and two hands!
At this point, it was pretty much time to wind down and go to sleep. This was Selah's first multi-friend sleepover. And may I just take a moment to relish in and testify to God's abundant grace over Selah's life to provide these dear, dear girlfriends for her? This is a group of girls from ages 8 to almost 13. And they all LOVE each other dearly. There is no tearing down, no sassy talk, no cell phones, no worldliness. They all love the Lord and thus, love each other. There is just JOY and sweet fellowship and the love of Christ. WHAT A GIFT, not just for Selah, but for her mama who has prayed for this for so long. WHAT A GIFT.
The girls got their beds and stuffies (who were, of course, also invited to the sleepover) all ready and spent a while crocheting and doing each other's hair.
I told the girls I would pray for them and then we'd turn out the lights. One of them responded with, "Can I pray, too?" And then another, "Me, too!" and "Me, too!!" So we all took turns praying and every one of them thanked God for Selah and her friendship and her life. WHAT A GIFT.
We finished praying and then the girls said, "Would it be alright if we took turns singing hymns to each other before going to sleep?" Most likely a delay tactic but, come on–who would ever say, "No" to that request?!! WHAT A GIFT.
We started out the next morning with a humongous breakfast. Shout out to Grandpa, without whom I never could have pulled it off. We had blueberry pancakes, homemade hash browns, sausage, bacon, scrambled eggs and orange juice.
Two of the girls had to leave by 10 am so we really only had a short amount of time to play some double games. We started off with Double Doodle Art: in this game, each kid got a piece of paper and two markers. They each folded their paper in half to create a line of symmetry. Then, holding a marker in each hand, they had to draw a symmetrical picture. Every single one of them completed their first drawing and asked to do a second. It's kind of addicting!
Next, we played Blind Partner Draw. Each child drew a picture, only using basic shapes. So, for instance, if they wanted to draw a tree, they would need to draw a rectangle with a triangle on top. Then, their partner grabbed a blank sheet of paper and partner #1 had to describe his/her picture to partner #2. "Draw a rectangle in the middle of your page. Draw a triangle on top of that." At the end, they compared their pictures to see how well their instructions worked! It was very fun.
Then, we went outside to play a few classic games that require partners.
First, the Balloon Head Race. Hold a balloon between yours and your partner's head and race to the other side. The kids loved it.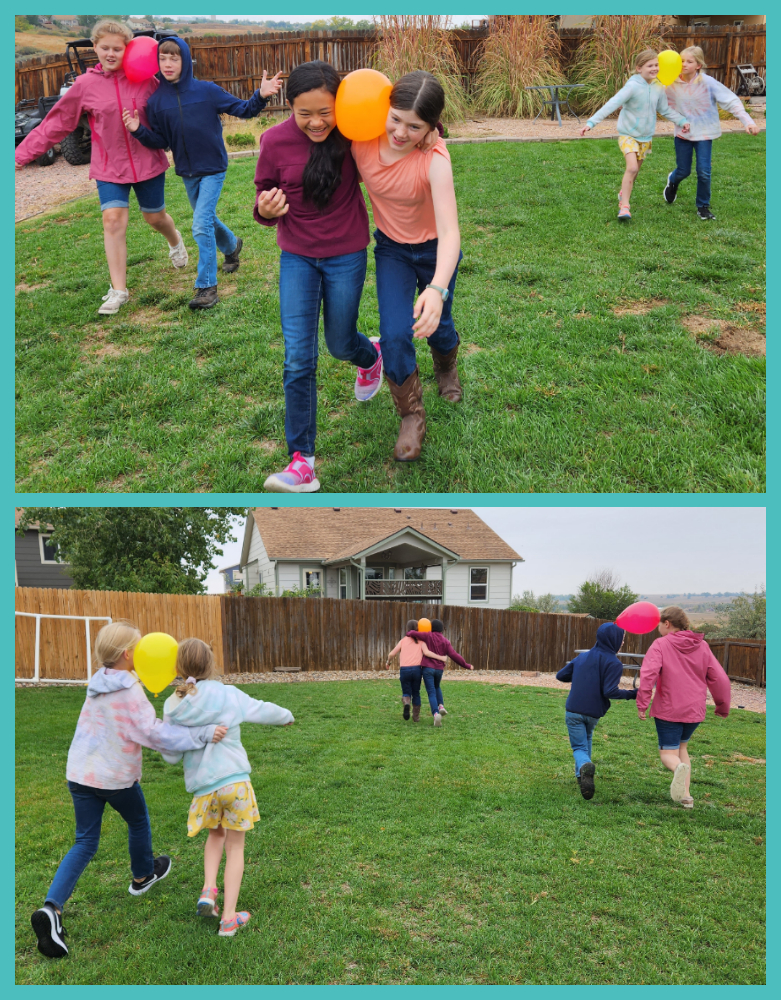 Second, the three-legged race. This is one of Selah's favorite games. She's always asking to play it as a family. I didn't think through how to tie their legs together ahead of time (oops) and my last-minute grocery sack idea was a failure. But they had fun anyway!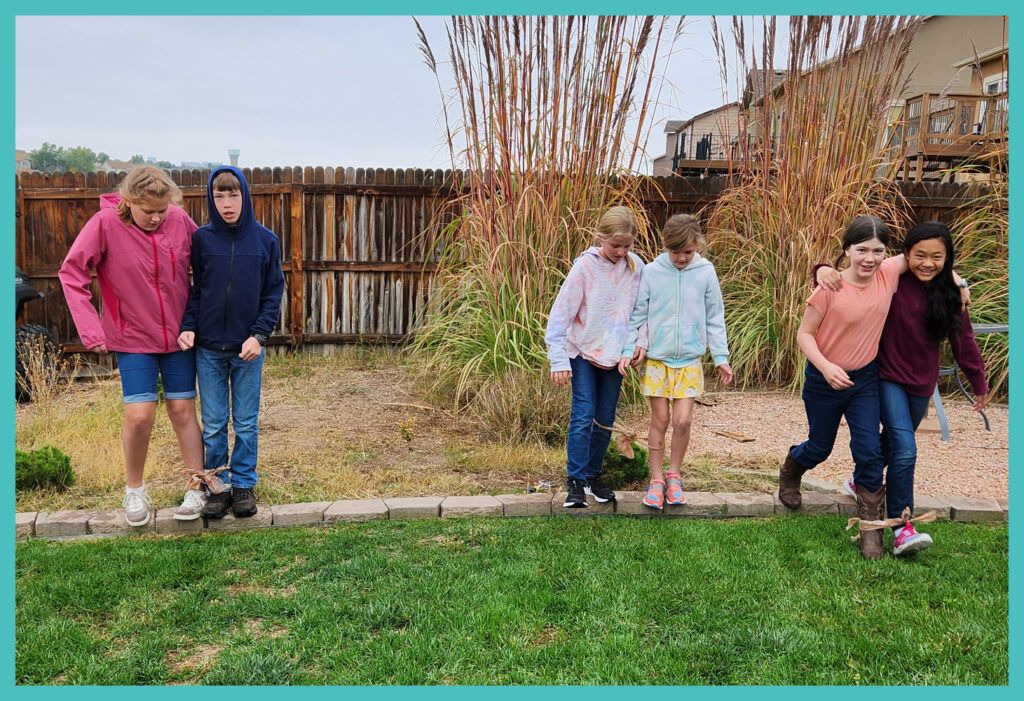 Third, we were planning to play cornhole (another of Selah's favorite games) but it was 10 o'clock and two of the girls had to leave. However, the kids got to play cornhole with Grandma and Grandpa later that day, so we checked it off the list!
The remaining three jumped on the trampoline and played until lunch, which was homemade Double Cheese Mac and Cheese and veGGies.
The party favors were a pack of Doublemint Gum (obviously) and two pens.
Oh, my darling double digit daughter! We love love you so so much. You are our joy joy. Happy happy double digit (birth) day!